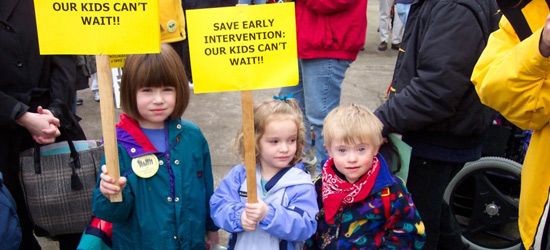 What does advocacy look like at our organization?
We work to create an inclusive community for all children and families. There are many ways that we go about this, but most of them come back to advocacy in one form or another.
Executive Director Angela Jarvis-Holland brings a background in social change and community building. Before the birth of her son Daniel, Angela worked both in the UK and here in Portland with disenfranchised groups, running programs that aimed to empower people most affected by a situation to identify their own needs and mobilize to create change, and find solutions appropriate for their circumstances. Angela and the Board and Staff hold on to this mechanism for social change in all our work. Families are the constant the lives of children with disabilities, and those parents, along with the people with disabilities themselves, are the only real experts about their lives and needs.
Our staff and devoted volunteer team of writers, artists, designers, visionaries and project managers works together to maintain high-quality materials and programming. We believe it is vital to celebrate what is working too, and engage in "celebratory advocacy", taking time to recognize and share the competencies of enlightened professionals and visionary parents who are willing to think outside the box when looking for ways to build more inclusive and rich communities and schools.
Our work is built on person-centered values and principles. We work collaboratively with enlightened professional that share our vision and values; these professionals inform our work, but as parents we remain in the driver's seat in all of our projects. We choose to position ourselves as part of the social change movement that will create a world that sees the strengths and gifts of every individual. While we work within systems to help them change, we can't always afford to wait until the system catches on and catches up. We are creators of services in our community, not just consumers.
If you are interested in joining us in our advocacy work, please take a tour through these pages to see if there is an area of particular interest, and then get in touch, either by filling out our Volunteer Form or by calling the Resourcefulness Center at (503) 238-0522. Thanks for your interest.
---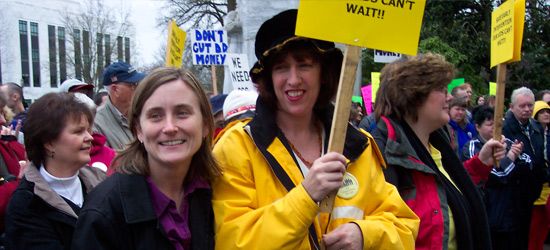 Political Advocacy
The most effective political advocacy is accomplished with the help of good relationships with policy makers. Building a relationship with your legislator can seem daunting, but lawmakers are people too, and they work for us! Whether they represent you at the local, state or federal level, they have an interest in hearing from you as their constituents, and your stories are incredibly powerful. We encourage you to take the time to get to know your legislators, and to join us in our advocacy in Salem, Olympia and Washington DC. To find the contact information for your legislators, click here if you live in Oregon or click here if you live in Washington State.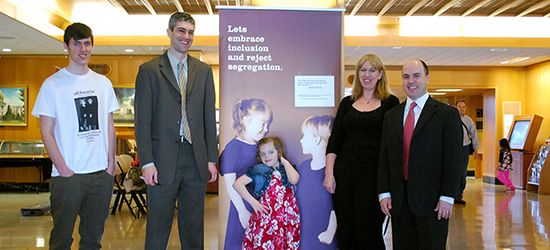 State level Advocacy in Salem and Olympia

We have come to be known as an accurate, trusted resources for our legislators. We have traveled to Salem and Olympia many times over the years to testify and meet with legislators, as well as for special events. We stay connected to what is happening to keep track of issues that affect our community, from education to healthcare, from community supports to civil rights, and when action is needed we work to bring the community together to bring our collective voice to the policy makers. We also work with both Oregon Council on Developmental Disabilities and Washington State Developmental Disabilities Council to ensure that we are connected with the policy priorities being addressed statewide.

Teddy Bear Rally

In 2003, Executive Director Angela Jarvis-Holland was serving as chair of the area Interagency Coordinating Council, working with other leaders to mobilize parents in the face of serious reductions in Early Intervention services in Oregon. They formed the Multnomah Parent Action Committee (MPAC) The group decided to deliver a Teddy Bear to every lawmaker with the message: "From a child I love to a child you love—any child could be born with a disability." Sharon Lewis worked with the Oregon Council on Developmental Disabilities to make the Teddy Bear Rally a statewide effort, and hundreds of people gathered at the Statehouse with their Teddy Bears to advocate for the importance of Early Intervention funding.

Early Intervention Story Books

We collected family stories about the importance of Early Intervention to share with lawmakers in Salem in 2003. Angela and other parents from MPAC got a small grant from Multnomah County to support the project. In 2012, when the State of Oregon once again threatened major cuts to Early Intervention services, we published a second booklet of new stories and delivered them to legislators.

Clark County Disability Coalition

Our organization is a member of the Clark County Disability Coalition (CCDC), which works to inform Clark County area legislators about issues concerning the disability community. Each election cycle, the CCDC organizes a candidates' forum for area legislative seats. The CCDC also participates regularly in Developmental Disability Advocacy Days at the State Capitol in Olympia. In 2011 the CCDC organized a rally in support of Medicaid services in Washington State in the face of threats of major cuts to necessary services (article).

Federal level advocacy

We are committed to supporting the National Down Syndrome Society's policy team, and have traveled to Washington, DC several times to meet Oregon and Washington legislators to make sure they are aware of issues facing our community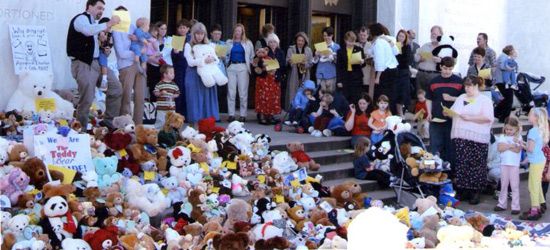 ---
Educational Advocacy
From its earliest days our organization has been involved in educational advocacy. Rather than just identify problems, we are known for coming up with solutions and implementing them. We work to bring our perspective to public discussions, and use community-building to create a collective voice to respond to policy issues in education. While we are strategic in our choice of conversations to join and invest time in, there are times when our advocacy efforts are frustrated; parents are often outnumbered at the table, and parent groups are not given the same weight in decision-making as professional organizations, agencies and policy-makers. At times there is such prejudice and blindness to the needs of our community.
But despite those frustrations, we remain committed to advocating for our community, and to empowering parents and caregivers to be strong advocates for their children; we have become a meeting place for educational professionals who share our vision and values, and together we are working to make changes in education policy that will balance the needs of all learners. We are dedicated to empowering parents and educators to create partnerships that provide successful inclusive experience for all learners. Through trainings throughout the year, the ABI conference, the Kindergarten Cohort and presentations at area colleges and universities, we provide opportunities for learning based on current research and innovations. Our partnerships and advisory board help us stay current in our information.
We cannot sit and wait for the policy makers to catch up to the needs of our community. As we evolved as an organization, and as our children grew to school age and we as parents began to navigate the education system, we learned that there is a great need to educate and empower parents to be strong advocates for their children, and to give educators the opportunity to come together and strategize to learn with us about how to make inclusive classrooms successful. And so the movement was born in the spring of 2006, with the first All Born (In) Inclusion Conference.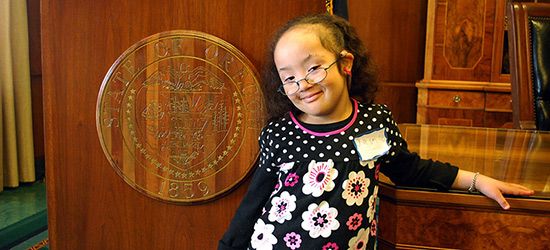 The All Born (In) Cross-Disability Best Practices Educational Inclusion Conference

An annual conference on tips, tools and inspiration to build more inclusive schools and communities, the largest conference of its kind on the West Coast.

The Kindergarten Inclusion Cohort

An innovative program that empowers parents to prepare for their child's transition to kindergarten. An exciting partnership with Portland Public Schools is helping the schools prepare to receive the children of cohort graduates in their General Education classrooms.

The Coalition for Universal Design for Living and Learning

A group of professionals and advocates from across Portland Metro and Southwest Washington dedicated to the shared vision of inclusive, accessible communities.

Presentations to classes at local colleges and universities, including Portland State University, Western Oregon University, the University of Portland and others

We are excited to have the opportunity to work with new practitioners, trainee teachers, and future educational and medical professionals, and to serve as a resource for professors interested in empowering their students with a view into families' lives before they enter their chosen field.

Testifying at School Board meetings, Town Halls and other public forums

We recognize that not every parent has the time to testify at these events, and we work to represent the 1400 families we serve when we have the opportunity to make our voices heard.

Participation in educational planning, steering and advisory committees

We are selective in the opportunities we accept, to ensure that we are speaking out where our voice can have the most impact. Some recent examples include Board President Steven Holland sitting on the PPD Citizen Budget Review Committee and Executive Director Angela Jarvis-Holland sitting on the PPS Long Range Facilities Planning group. In both cases, important perspective were brought to the table that would likely have been absent from the conversation otherwise. Following a presentation on Universal Design for the Long Range Facilities Planning group one local architect commented that he would "never look at the architecture and planning of schools the same way again."

Presentations at conferences

Including the annual OTAP conference on Assistive Technology, The Oregon Disability Mega Conference, the TASH inclusion conference, and the Division for Early Childhood National conference on Early Childhood Education.

Collaborative work with other area agencies and parent groups

We enjoy the opportunity to collaborate around shared issues of importance. We are all stronger when we bring our voices together.

Reciprocal Learning Community (RLC)

RLC was founded in response to severe cuts in Oregon's Early Intervention program. RLC brought parents and professionals together to bring parents of young children with disabilities current, best practices information on the development of their children.

We All Belong

A powerful, short documentary that highlights the importance of inclusive education. This video has been played across the country for parents, educators, lawmakers, and partners.
---
Medical Advocacy
The NWDSA believes strongly that the perspective of families and individuals with disabilities is a valuable part of any medical provider's education. We are happy to partner with medical providers, universities and teaching hospitals to help bring this perspective to students and practitioners, and have in the past spoken with nursing students at the University of Portland, Ob/Gyn students, residents and doctors as well as geneticists and genetic counselors at OHSU and Physical and Occupational Therapy students at Western Oregon University, among others. We worked with OHSU President Joe Robertson on an initiative to implement the use of People First Language at OHSU in January of 2008. We are open to building a relationship with any provider who wishes to work with us, and encourage you to get in touch with us by calling the Resourcefulness Center at (503) 238-0522 or emailing Angela Jarvis-Holland at ajarvisholland@nwdsa.org. We look forward to hearing from you.
---
The Board of Directors of the NW Disability Support does not endorse any candidates. As a group, we serve a very diverse population. Our families represent all political persuasions, and we are united by our love for our children, and our passion and conviction to fight for a more inclusive community.
Intellectual Property Statement: The photos, videos and other content on this page are property of the NW Disability Support and may not be used without explicit permission from this organization.