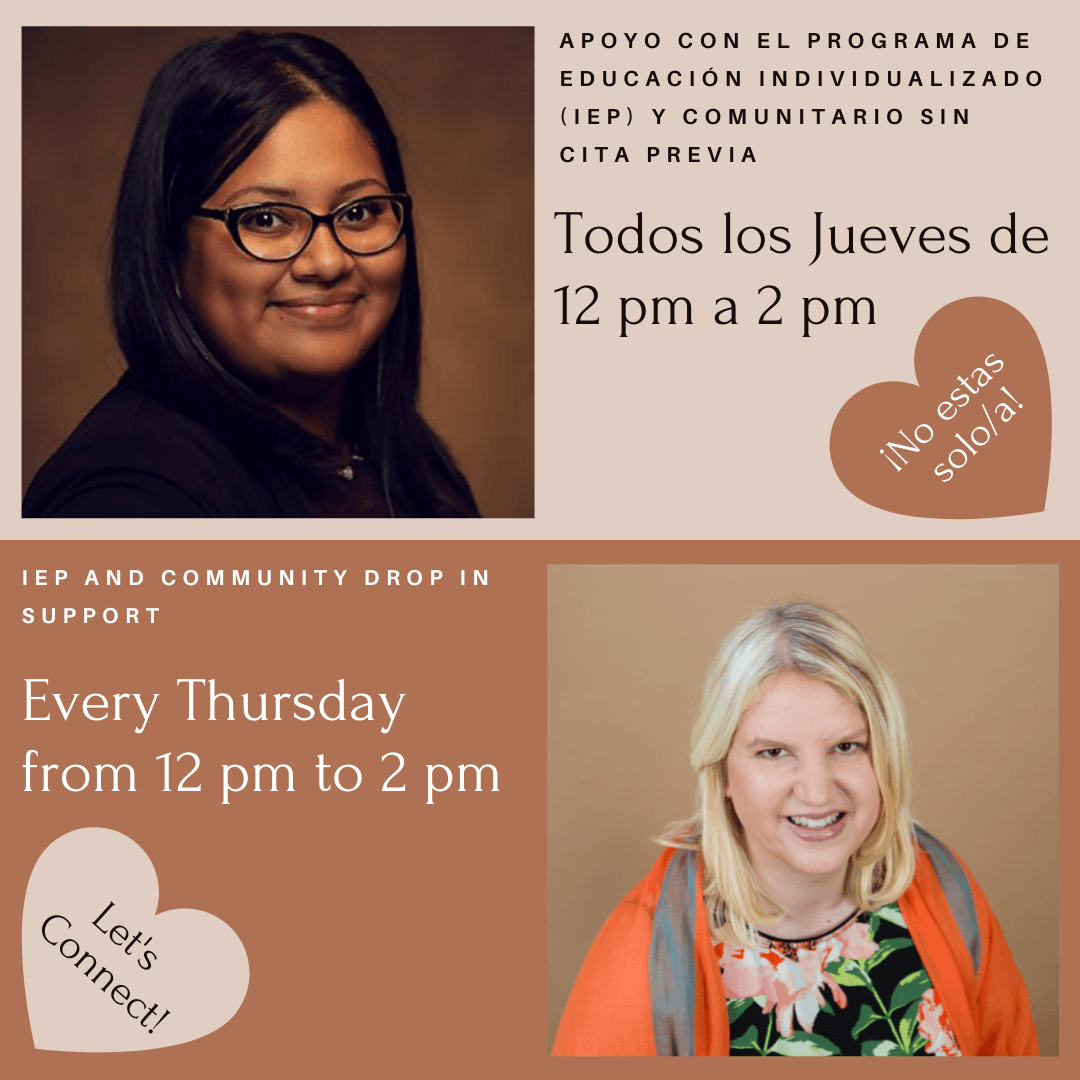 ---
Community Drop-in Support Available, in English and Spanish, Every Thursday from noon-2pm, through June 10, 2021
We invite you to connect with us and other community members every Thursday from 12pm-2pm beginning October 7, 2021 through June 16, 2022.  Grab your tea or coffee and let us know how we can support you!
We work to provide you tools, tips, and strategies to navigate early childhood services, special education services, and inclusive communities. We also provide resources to support health and safety, connections to community, and an open ear and heart to families, educators, and other professionals. 
Support is available in English and Spanish. If further assistance is needed, you are always welcome to join us the following week or to set up an appointment to connect one on one. 
IEP and Community Drop-In Support is hosted by NWDSA/ABI staff members, Chelle Johnson, Kindergarten Transition Coordinator, and Maria Rangel, Bilingual Outreach Coordinator. 
Chelle Johnson: chelle@nwdisabilitysupport.org
Maria Rangel: , 503-262-4029
Please note that drop-in will not be available Thursdays that fall on a holiday or during Oregon or Washington school breaks. 

Apoyo con el programa de educación individualizado (IEP) y comunitario sin cita previa 
Lo invitamos a conectarse con nosotros y otros miembros de la comunidad todos los jueves de 12 pm a 2 pm a partir del 7 de octubre de 2021 hasta el 16 de junio de 2022. ¡Tome su té o café y cuéntenos cómo podemos ayudarlo!
Trabajamos para brindarle herramientas, consejos y estrategias para navegar por los servicios para la primera infancia, los servicios de educación especial y las comunidades inclusivas. También brindamos recursos para apoyar la salud y la seguridad, conexiones con la comunidad y un oído y corazón abiertos a las familias, educadores y otros profesionales.
El soporte está disponible en inglés y español. Si necesita más ayuda, siempre puede unirse a nosotros la semana siguiente o concertar una cita para conectarse uno a uno.
El apoyo comunitario sin cita está organizado por miembros del personal de NWDSA / ABI, Chelle Johnson, coordinador de transición y comunidad, y Maria Rangel, coordinadora de extensión bilingüe.
Chelle Johnson: chelle@nwdisabilitysupport.org
Maria Rangel:  mrangel@nwdisabilitysupport.org , 503-262-4029
Tenga en cuenta que no habrá disponibilidad los jueves que caigan en un día festivo o durante las vacaciones escolares de Oregon o Washington.