---
If you are interested in being a volunteer parent coordinator for Open Arms Play Groups, please contact us! (503) 238-0522 or info@nwdsa.org
Portland Open Arms Play Group
Second Tuesday of each month · 10:30 AM-12:30 PM
Earl Boyles Elementary School · 10822 SE Bush St., Portland, OR
[map/driving directions]
Contact: Maria Rangel (503) 238-0522 · openarms@abicommunity.org · habla Español
Vancouver Open Arms Play Group
First Saturday of each month · 2:30-4:30 PM
Unitarian Universalist Church of Vancouver · 4505 E 18th St., Vancouver, WA
[map/driving directions]
Contact: Kirstin (541) 294-3873
Mayra (509) 310-9905 · habla Español
---
Download the flyer in English (PDF)
Download the flyer in Spanish (PDF)
---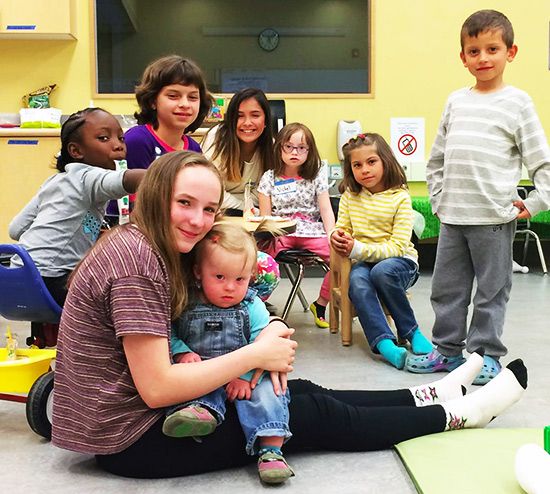 Founded in 2004 by Sydney Shook and Jamie Burch with a mini-grant from NWDSA, Open Arms is a play group for children age birth through five with disabilities, and their families. The play groups give parents the opportunity to connect and children to play, snack, learn and grow together. There is no charge. Siblings are welcome.
Cross-disability
For families with kiddos 5 & under
Siblings welcome
Free of charge
Snacks provided*
Organizer speaks Spanish (Portland & Vancouver)
---
The Parents Behind Open Arms
Mayra and Luis live in Vancouver Washington with their daughter Lizette. They have been attending Open Arms since Lizette was an infant. Mayra stepped up to co-lead the Vancouver group in January 2017 along with Kirstin.