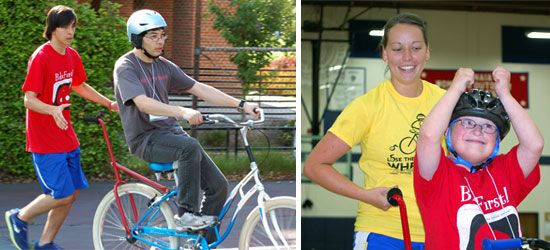 ABI: Bike First! Bike Week is where children, youths, and adults with and without disabilities learn the skills needed to ride conventional two-wheelers.
Riders can sign up for the full, 5-day program or the 3-day Quick Start/Refresher course.
ABI: Bike First! was founded in Portland, Oregon in 2006. and is proud to have systematically taught over 400 individuals with myriad disabilities to get beyond training wheels and become independent bike riders!
Bike Week 5-day program
(Mon – Fri)
Open to riders ages 8 & up
Quick Start/Refresher 3-day program
(Wed - Fri)
Open to riders ages 5 & up who can ride yet need more focus on skills or confidence
"Nothing compares to the simple pleasure of a bike ride."
- John F. Kennedy
ABI is a program of NW Disability Support.