Kindergarten Transition: IEP Rights, Laws, Tools & Tips for Full Inclusion | Transición de Kindergarten: Derechos, leyes, herramientas y consejos del IEP para la inclusión total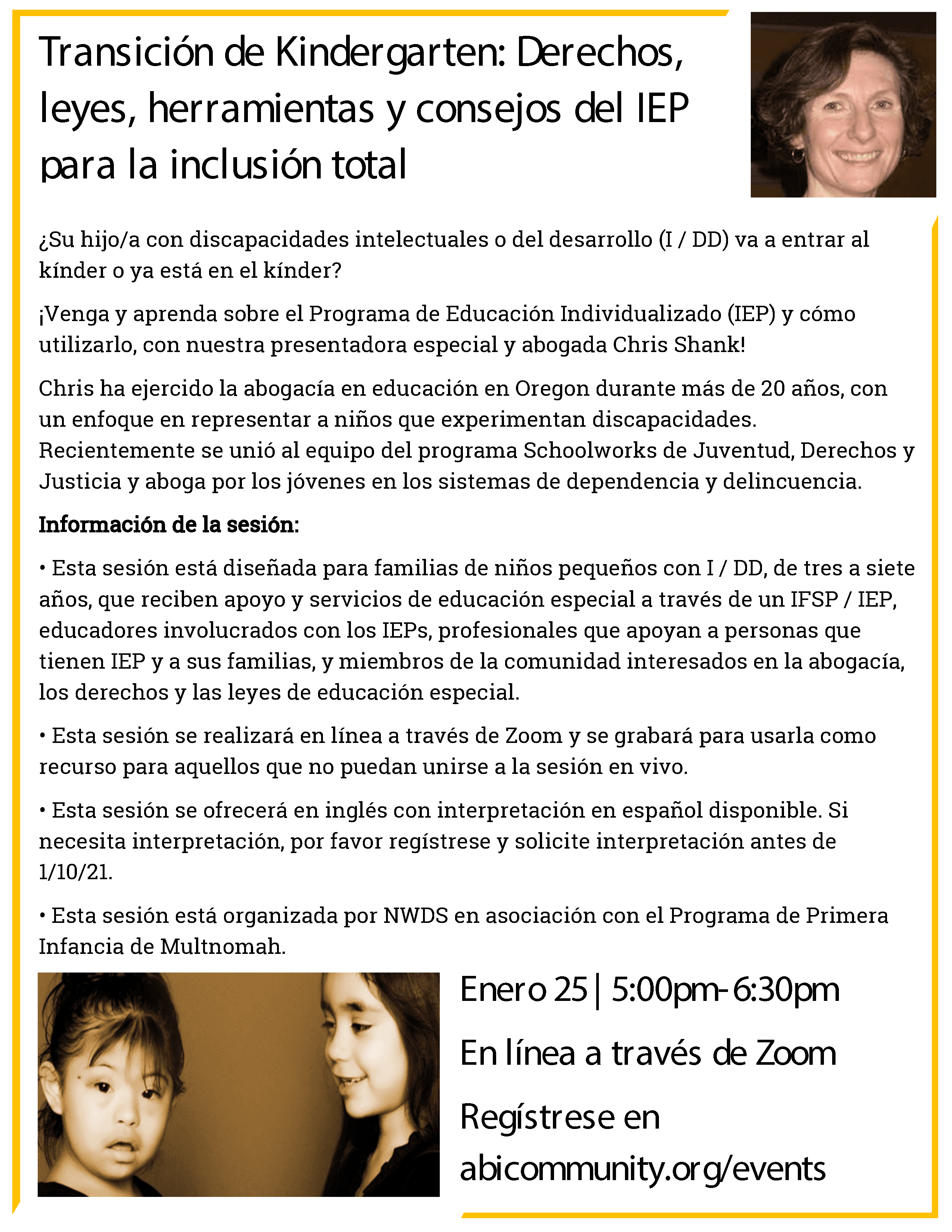 Kindergarten Transition: IEP Rights, Laws, Tools & Tips for Full Inclusion
January 25th, 2022
5:00 - 6:30pm
Online via Zoom
Is your child with an Intellectual or Developmental Disabilities (I/DD) going to, or already in, kindergarten?
Come learn about the Individualized Education Program (IEP) and how to utilize it and advocate for inclusion with guest speaker and attorney Chris Shank! Chris has practiced education law in Oregon for over 20 years, with a focus on representing children who experience disability. She recently joined Youth, Rights and Justice's Schoolworks program team and is advocating for youth in the dependency and delinquency systems.
Session info:
• This session is designed for families of young children with I/DD, ages three to seven, who receive special education supports and services through an IFSP/IEP, educators involved with IEPs, professionals who support individuals who have IEPs and their families, and community members interested in special education advocacy, rights, and laws.
• This training will be online via Zoom and will be recorded to use as a resource to those that aren't able to join live session.
• This session will be offered in English with Spanish interpretation available. If you need interpretation please register and request interpretation by 1/10/21.
• This session is hosted by NWDS in partnership with Multnomah Early Childhood Program.
---------------------------------------------------------------------------------------------------------------------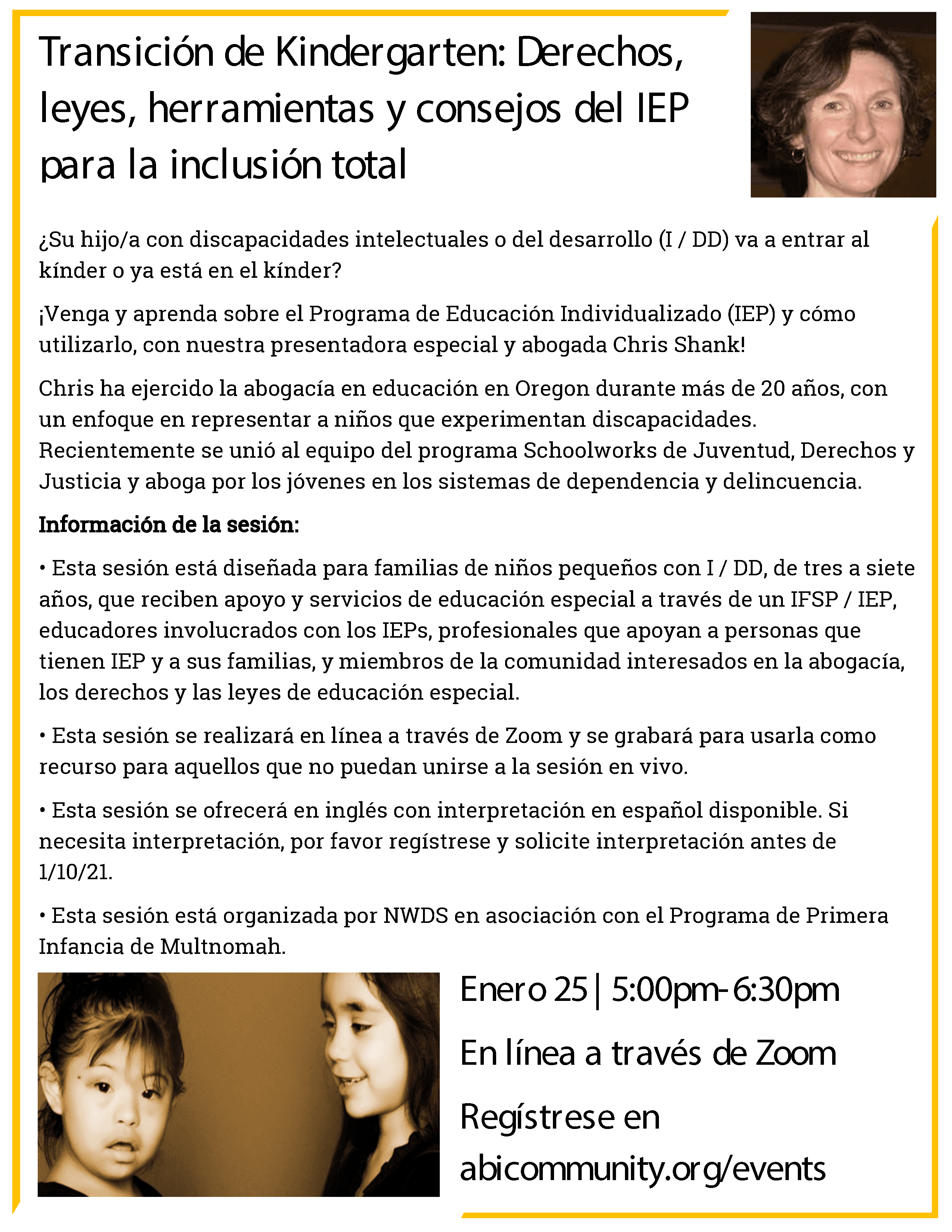 Transición de Kindergarten: Derechos, leyes, herramientas y consejos del IEP para la inclusión total
25 de enero dev 2022
5:00 - 6:30 pm
En línea a través de Zoom
¿Su hijo/a con discapacidades intelectuales o del desarrollo (I / DD) va a entrar al kínder o ya está en el kínder?
¡Venga y aprenda sobre el Programa de Educación Individualizado (IEP) y cómo utilizarlo, con nuestra presentadora especial y abogada Chris Shank!
Chris ha ejercido la abogacía en educación en Oregon durante más de 20 años, con un enfoque en representar a niños que experimentan discapacidades. Recientemente se unió al equipo del programa Schoolworks de Juventud, Derechos y Justicia y aboga por los jóvenes en los sistemas de dependencia y delincuencia.
Información de la sesión:
• Esta sesión está diseñada para familias de niños pequeños con I / DD, de tres a siete años, que reciben apoyo y servicios de educación especial a través de un IFSP / IEP, educadores involucrados con los IEPs, profesionales que apoyan a personas que tienen IEP y a sus familias, y miembros de la comunidad interesados en la abogacía, los derechos y las leyes de educación especial.
• Esta sesión se realizará en línea a través de Zoom y se grabará para usarla como recurso para aquellos que no puedan unirse a la sesión en vivo.
• Esta sesión se ofrecerá en inglés con interpretación en español disponible. Si necesita interpretación, por favor regístrese y solicite interpretación antes de 1/10/21.
• Esta sesión está organizada por NWDS en asociación con el Programa de Primera Infancia de Multnomah.