NWDSA Winter Social / Social de Inverno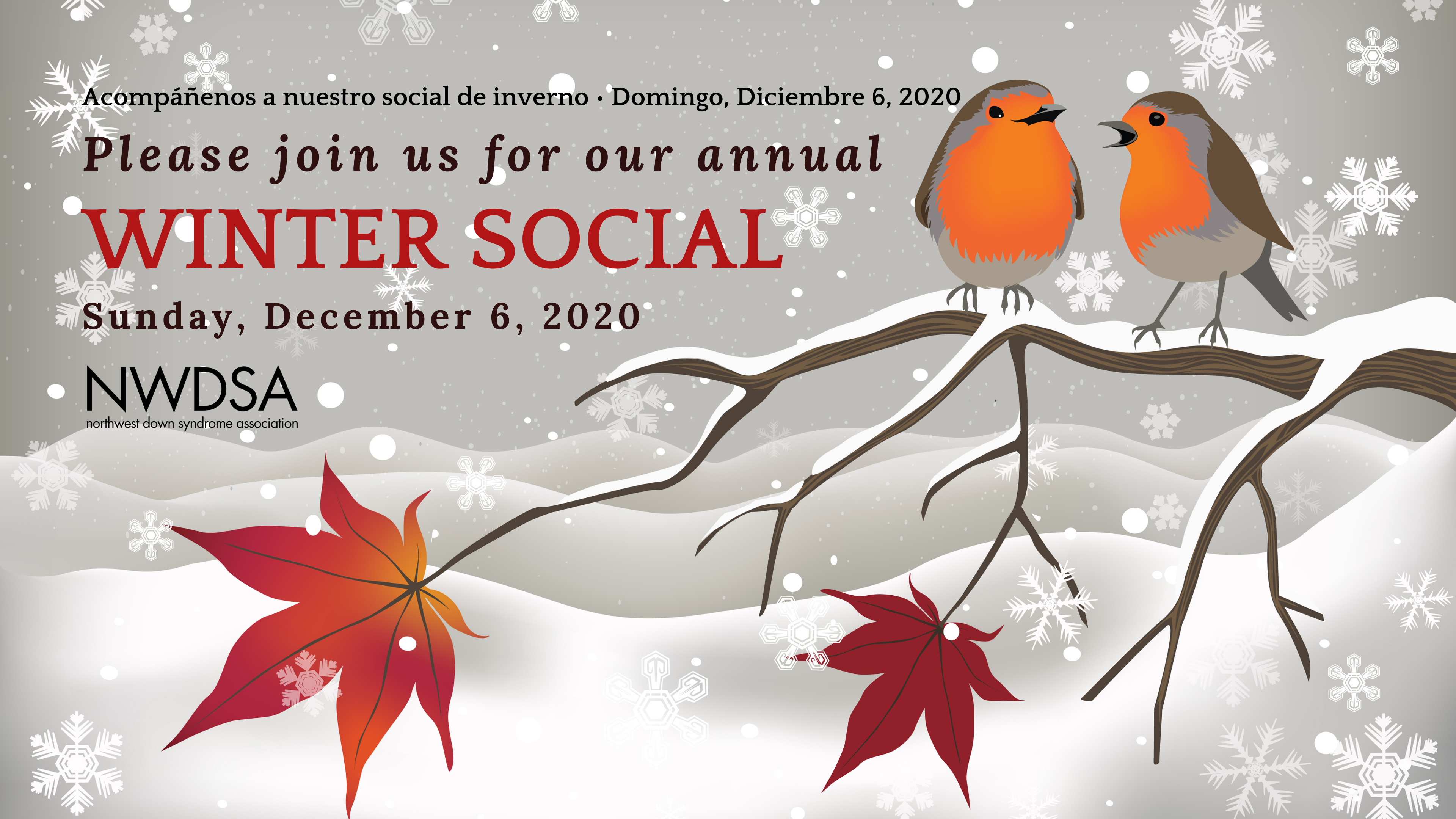 Please join us for the annual NWDSA Winter Social!
Bring your holiday spirit, put on your fancy frock, make a cup of hot chocolate, and join us for our annual NWDSA Winter Social on Sunday, December 6, 2020! Let's come together virtually and share some good tidings and love as we hold space for this special time of year. We hope you can participate in both of our virtual Winter Social activities that include Santa, holiday music, entertainment, story time, messages from the community, and amazing, smiling, little faces.
For families of children with Down syndrome join our staff live on Zoom with Santa! Register to visit with Santa live at 12:00 PM, 12:30 PM, 1:00 PM or 1:30 PM, within that time frame you will get a few minutes with Santa where we will snap a screenshot of your family and Santa to mark this unique holiday season. We look forward to connecting with you live in the Zoom main room while you wait for your family to see Santa in the breakout room.
Space is limited and registration is required by December 1, 2020.
For anyone and everyone we welcome you to celebrate with us on Facebook and YouTube live for festivities! Visit Northwest Down Syndrome Association (NWDSA) page on Facebook, or Northwest Down Syndrome Association and ABI channel on YouTube, from 2:00 PM to 3:00 PM for festive music with a local artist, entertainment, holiday cheer, season's greetings from Santa and NWDSA, pictures from holiday past, and more. We look forward to enjoying our festive broadcast with you and connecting live through your comments and likes.
Even though we are apart this year, we are still connected and united by love, we can still experience the NWDSA Winter Social tradition through a new kind of togetherness virtually. Join us for some holiday love, magic, and sparks of joy with Santa on Zoom, and through our holiday show on Facebook and YouTube. We are excited to connect and celebrate with you! 
Support our mission to create and nurture a loving and inclusive society for all people experiencing disability including Down syndrome below.
______________________________________________________________________________________________________________
¡Acompáñenos a nuestro social de inverno!
Traiga su espíritu festivo, póngase su traje festivo, prepare una taza de chocolate caliente y únase a nosotros para nuestro social de invierno anual de NWDSA el domingo 6 de diciembre de 2020.  Unámonos virtualmente para compartir algunas noticias buenas y amor mientras tenemos espacio para esta época especial del año. Esperamos que pueda participar en nuestras dos actividades sociales de invierno virtuales que incluyeran a santa, música festiva, entretenimiento, cuentos, mensajes de la comunidad y caritas increíbles y sonrientes.
¡Para las familias de niños/niñas con síndrome de Down, únase a nuestro personal en vivo en Zoom con Santa! Regístrese para visitar a Santa en vivo en uno de los horarios siguientes 12:00pm, 12:30pm, 1:00pm o 1:30pm, Dentro de este marco de tiempo obtendrá unos minutos con Santa donde haremos una captura de pantalla de su familia y Santa para marcar esta temporada festiva única.  Esperamos poder conectarnos con usted en vivo en la sala principal de Zoom mientras espera que su familia vea a Santa en la sala de reuniones.
El espacio es limitado y es necesario registrarse antes del 1 de diciembre de 2020.
¡Para todos y cada uno les damos la bienvenida a celebrar con nosotros en Facebook y YouTube en vivo para las festividades!  Visite la página de Northwest Down Syndrome Association (NWDSA) en Facebook, o el canal de YouTube de Northwest Down Syndrome Association and ABI, de 2:00pm a 3:00pm para disfrutar de música festiva con un artista local, entretenimiento, alegría festiva, saludos de la temporada de Santa y NWDSA, fotos de las celebraciones pasadas y más. Esperamos poder disfrutar de nuestra transmisión festiva con ustedes y conectarnos en vivo a través de sus comentarios y likes (me gusta).
A pesar de que este año estamos separados, todavía estamos conectados y unidos por el amor, todavía podemos experimentar la tradición social de invierno de NWDSA a través de un nuevo tipo de unión virtualmente. Únase a nosotros para disfrutar de un poco de amor festivo, magia y chispas de alegría con Santa en Zoom y a través de nuestro programa festivo en Facebook y YouTube. ¡Estamos emocionados de conectarnos y celebrar con ustedes!
Apoye nuestra misión de crear y fomentar una sociedad amorosa e inclusiva para todas las personas que experimentan discapacidades, incluido el síndrome de Down a continuación.