Buddy Fest NW / Festival de Amigos del Noroeste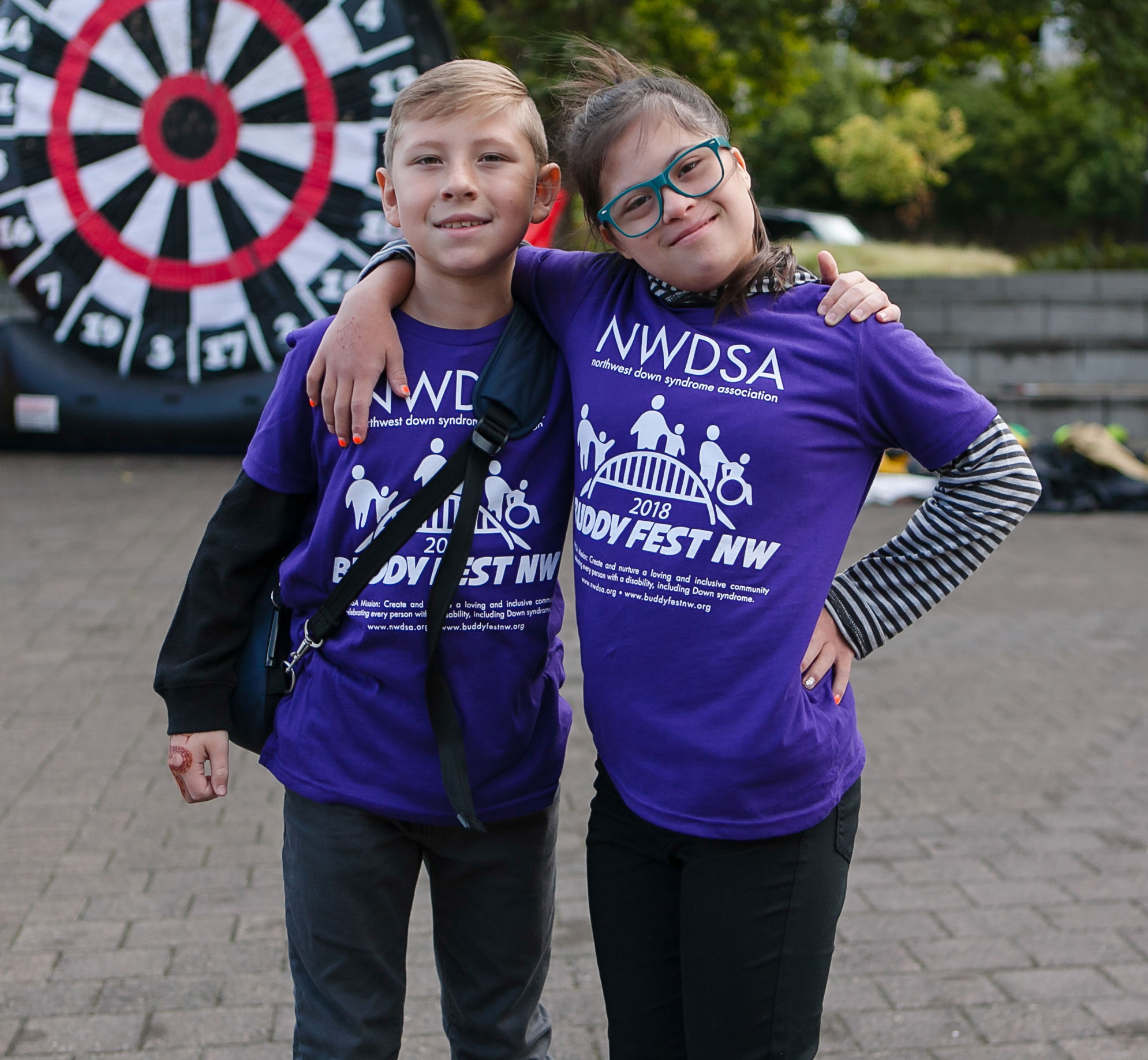 Games, bounce castles, raffle, silent auction, food & drink, entertainment galore! Emcee Tony Starlight, live music, hula hoopers, cheerleaders, Star Wars characters & much more.
Local advocate and leader, Karen Gaffney, will be joining us as the keynote speaker! Karen is the President of Gaffney Foundation—a nonprofit
organization dedicated to championing full inclusion in families, schools, the workplace and the community for people with intellectual disabilities.
Buddy Fest NW is a celebration of acceptance and inclusion of people with Down syndrome.
Whether you have Down syndrome, know someone who does, or just want to show your support, come and join us at Buddy Fest NW!
We encourage people with Down syndrome to invite "buddies"–friends and family, teachers, legislators, celebrities, and other professionals–to join them at
Buddy Fest NW. Every participant helps promote the importance of understanding and belonging.
Buddy Fest NW is our largest annual fundraiser. Proceeds help empower and support families and individuals, connect new parents to the community, increase education, promote public understanding and acceptance, increase competence of professionals, work toward full inclusion, and defend the civil rights of individuals with disabilities.
SATURDAY SEPT. 21ST, 2019 • 10 AM—1:30 PM • RAIN OR SHINE!
Moda Center Commons • One N. Center Court St. • Portland, OR
---
Juegos, brincolines, sorteo / subasta silenciosa, comida y bebidas, entretenimiento en abundancia! Emcee Tony Starlight, música en vivo, hula hoopers, Porristas, personajes de Star Wars y mucho más.
La defensora y líder local, Karen Gaffney, se unirá a nosotros como la presentadora principal! Karen es la Presidenta de la Fundación Gaffney, una Organización sin fines de lucro dedicada a promover la inclusión plena en familias, escuelas, lugares de trabajo y en la comunidad para personas con discapacidades intelectuales.
Festival de Amigos del Noroeste es nuestra celebración anual de aceptación e inclusión de personas con síndrome de Down.
Ya sea que tenga síndrome de Down, conozca a alguien que tenga syndrome de Down, o simplemente quiera mostrar su apoyo, ¡únase a nosotros en Buddy Fest NW!
Animamos a personas con síndrome de Down a invitar "amigos"—desde amigos y familiares hasta maestros, legisladores y celebridades—
para acompañarlos en el festivel de amigos. Cada participante ayuda a promover la importancia de la comprensión y pertenencia.
Festival de Amigos del Noroeste es nuestra recaudación de fondos anual más grande. Los ingresos ayudan a empoderar y apoyar a las familias e individuos, conectan a los nuevos padres con la comunidad, aumentan la educación, promueven la comprensión y aceptación del público, aumentan la competencia de los profesionales, trabajan hacia la plena inclusión y defienden los derechos civiles de las personas con discapacidades.
SÁBADO 21 DE SEPTIEMBRE DE 2019 • 10 AM—1:30 PM • LLUEVA O TRUENE!
Los Comunes del Moda Center • One N. Center Court St. • Portland, OR