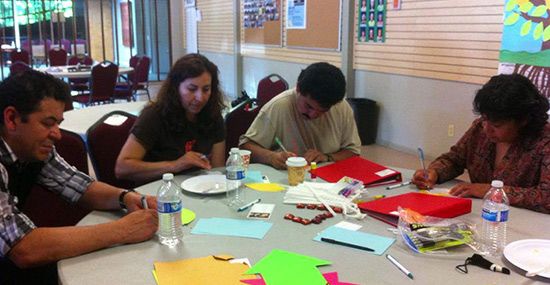 Bringing the focus to Spanish-speaking families
The NWDSA is excited to announce a new project to build an empowered group of Spanish-speaking parents to work as "promotoras" supporting Hispanic families in a parent-to-parent model. While the NWDSA unconditionally welcomes all families, we understand that our immigrant families face special barriers to involvement, including language and cultural differences and a general unfamiliarity with the educational and social system.
We hope to address this by bringing parents together for educational sessions, empowering them as leaders to go back out to families in their region and help build an informed, connected community of families who access existing NWDSA events and also support one another as needed. Rosa Flores will head this project, with the support of Sheyla Hirshon and Abby Braithwaite and the NWDSA Board of Directors.
If you are interested in participating, please contact Abby (503) 238-0522 or abraithwaite@nwdsa.org, or Sheyla Hirshon (971) 227-4928 or shirshon@nwdsa.org.
Con gran entusiasmo, la Asociación Noroeste de Síndrome de Down (NWDSA) anuncia un nuevo proyecto para formar un grupo fortalecido de madres y padres Hispanos que podrían desempeñarse como "promotoras" en apoyo de otras familias. Aunque la NWDSA abre sus puertas incondicionalmente a todas las familias, comprendemos que nuestras familias inmigrantes enfrentan barreras particulares para involucrarse, entre ellas diferencias de idioma y cultura, mas el poco conocimiento del sistema de servicios educativos y de sociales en Oregon.
Esperamos agilizar su camino juntando un grupo de padres para recibir conocimientos y fortalecer su liderazgo, para que luego apoyen a otras familias en su vecindario y ayuden a construir una comunidad de familias bien unidas e informadas, capaces de aprovechar los eventos del NWDSA y servir como apoyo mutuo. Rosa Flores coordinará el proyecto con el apoyo de Sheyla Hirshon y la junta directiva de NWDSA. Si tiene preguntas o quiere participar, favor de comunicarse con Abby al #503-238-0522 o abraithwaite@nwdsa.org.
---
---
Promotoras news & articles