The only thing that delights us more than hearing about all the ways children blossom and grow after becoming skilled and confident riders is being able to share those stories with the world. Please take a moment to browse the parent feedback and rider success stories on this page. If you or a family member are a graduate of the program, we encourage you to share your story with us here so we can publish it for everyone to celebrate.
---
FAMILY FEEDBACK
In 2019, 43 out of 46 participants were riding on two wheels by Friday!  Here is some feedback from last year's Bike First! Bike Week.
"Dear Ann- It never occurred to me to hope that Leo would learn to ride a bike this week. I thought it would be a good experience, for sure. You have assembled a team and program that enabled Leo to blow me away. Honestly, a-sunshine-beaming-down-on-Leo- tears-in-my-eyes-moment.
As Cody's mom, you know my feelings and thoughts right now. Thank you for not only bringing Bike First! to your family, but for sharing it with our community. We are better for it- active together, exploring capabilities together and pursuing personal independence together.
In the fall, Leo will ride a two-wheel to school and PROUDLY lock it up with his classmates at the rack. This is just the start. He may not drive, but he can pedal to a friend's house, the park, out to eat on his own….
Thank you for resetting my hopes bigger." -- Catherine
"Hey, thanks for much for our week at Bike First! Wow did we see Parker soar!! Something I didn't realize until we completed the week is how much independence can be gained by this camp. This week he was determined to conquer our monkey bars and specifically stated " I did it myself" multiple times. Also, at home, I noticed when asked to do his routine chore (dishes) he did it (didn't complain) this week and did it on his own (instead of depending on adults). This independence is so freeing and we hope it's not a coincidence but just independence on a bike and further forward from here. Thanks for a great week and amazing volunteers! Love your work and love inclusion mindset and push. We are all in this together!  Systems change little by little." -- Molly
---
BIKE FIRST! RIDER SUCCESS STORIES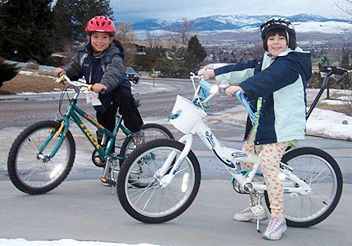 Bella's Story
Imagine a picture-perfect summer day on the shores of Montana's beautiful Flathead Lake. During our week-long stay there, our children, Bella and Nino, practiced riding their training-wheel clad bikes. Finally Nino ventures forth without the training wheels. Hooray for him! He rides independently!
Sadly, our celebration is cut short. Bella sobs in the cabin because she, at age 11, has not mastered this fundamental childhood skill, while her six-year-old brother has accomplished it with relative ease.
As parents, David and I find ourselves in this conundrum often. How do we celebrate Nino's normal childhood accomplishments when they all mark yet another thing his sweet developmentally delayed sister can't do?
I had almost given up hope that Bella would ever learn to ride. Our practice sessions were fraught with frustration and tears. And then we learned of Bike First!.
After only five days of one-and-a-half hour sessions in the Bike First!, Bella learned to ride independently! What magic! And what a celebration for every member of our family.
Riding a bike has increased Bella's confidence and her ability to fit in with other kids. Moreover, it provides her with a fun way to get exercise. Riding actually plays an important roll in the development of her delayed gross motor functions.
Because of Bike First!, we now look forward to family bike rides! We are grateful beyond words for this experience and for Bella's newfound sense of accomplishment.
---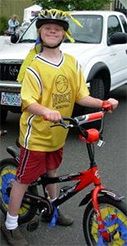 Cody's Story
By 2005, my son, Cody, had attempted to ride a bicycle on his own for five years.
Unfortunately, no matter how much effort was put into it by all involved, the skill wasn't even close to mastered! By then, he was a big ten year old boy with Down syndrome and weighed over one hundred pounds. It was painful to see him watch other typical developing children ride their bikes around the neighborhood while he was "stuck" on a trailer bike.
It is important for the spirit of community and for furthering the belief of inclusion, that this clinic is held and our children learn how to ride traditional bicycles.
The gift of learning to ride a bicycle is a memory one never forgets. Without this opportunity of the Bike First! clinic, many of these children would not be given this memory or the lifelong skill of riding a bicycle.
---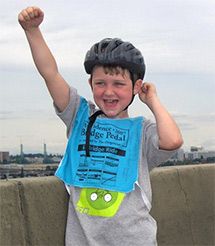 Eli's Story
Left out.
That's how Eli felt watching his neighborhood friends—some of them younger than he was—zooming up and down the street on their bikes.
All Eli needed to get up on a two-wheeler was a little extra help…and he found it at Bike First!
During this week-long bicycle clinic, held annually in Portland, Ore., Eli and dozens of other youngsters quickly developed the coordination and confidence they need, in a safe and positive environment. (In fact, Eli was up and riding in just two days.)
Two months after Bike First! Eli and his mother took part in the annual Providence Bridge Pedal, a 14-mile, six-bridge tour of downtown Portland. Here is our proud pedaler at the top of the Marquam Bridge.
"Learning to ride gave Eli a very big dose of self-esteem," said his mom. "We're very grateful to the Bike First! clinic."
---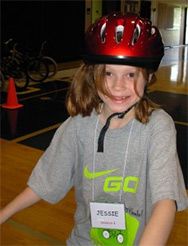 Jessie's Story
Jessie had a great experience! She worked so hard to become completely independent and is very proud of herself. She loves to go to her schoolyard to ride her bike as often as we can take her. Best of all, she wants to come back as a volunteer next year so she can help other kids lose their training wheels.
As for me, I had to fight back tears when I watched Jess doing figure eights around the basketball hoops at her school after bike camp last Friday.
It was an incredible joy to see her flying around on her bike just like other kids.
---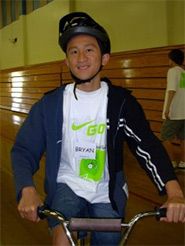 The Lee Brothers' Story
Mrs. Lee and I were very pleased to see our sons Adam and Bryan Lee learn how to ride a bike.
Your bike mechanic seemed to be a very jolly and helpful man who helped us figure out which bicycle to buy.
I think it is important to understand how many of our kids lack the natural confidence that a typical kid takes for granted. So many of our kids have issues with gross motor and motor planning that it is so great that your camp people have the knowledge and understanding of how to work with our kids so that each child can, hopefully, some day be able to ride like their non-disabled peers.
Mrs. Lee and I plan to keep working with our boys and I for one am planning the traditional father and son type of activities built around experiencing life biking around the neighborhood.
---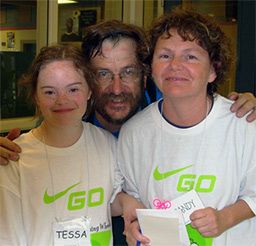 Tessa's Story
This was a life-changing event for Tessa and for me. To watch Tessa grow in her independence and see her ear-to-ear grin made me cry. This was something that Tessa had wanted to do for many years, and she has the scars of past attempts to prove it. In fact, it was her first comment when I told her we had the opportunity to go and learn how to ride a bike: "What about the scars, I don't want any more scars."