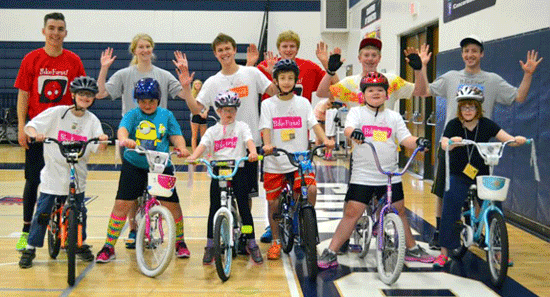 Bike First! Bike Camp is back!
Notice: All slots are full for Bike First! full week program. Complete the form and sign up for the wait list to be notified if slots open up.

All slots are still open for Quick Start/Refresher course.
---
June 20-24, 2022,
De La Salle North Catholic High School in NE Portland

---
A message from Ann Donaca, Director of Wellness:
Dear Bike First! Families and Volunteers-
We are excited to share that we are finally celebrating our 15th year of teaching individuals with disabilities the skills needed to ride typical bikes. Orientation will be Sunday, June 19th at 7:00 pm. Please plan for this as it is mandatory, even if the rider or volunteer has participated in the past. With new safety protocols, the rider/volunteer will only be able to participate depending on attendance of this meeting.
Due to the state of the pandemic and medically fragile riders, ALL campers, caregivers, and volunteers/workers must be fully vaccinated following CDC definitions in order to enter the building and participate. As of March 12th, masks are optional. Vaccination cards will be required on applications. Our plans are being crafted with guidance from CDC and OHA and strict Covid protocols for health and safety will be in place. Flexibility is key and as you imagine things are subject to change.
Please contact Beth and Angela with sponsorship ideas as we are raising monies now to bring the bikes and people to Portland. angelabikefirst@gmail.com AND bikefirstfunding@gmail.com.
---
Bike Week is a magical experience for everyone
Riders blossom and beam with pride over their new-found skill, volunteers cheer, and parents tear up to see their child take flight, alone, for the first time. Bike First! is open to children 8 years and up; meaning there is no cap on the end age!
People who experience a variety of disabilities have had success at the clinics—including Down syndrome, autism, cerebral palsy, visual impairments, extreme fear of falling, fine motor challenges, and developmental delays. 
Typically-developing children learn to ride a bicycle with help from their family and friends. Unfortunately, most individuals with disabilities who try this route are unsuccessful.
Through careful research into the elemental physics of bicycle riding, Dennis Blong and his team designed and built a unique type of adapted bike that enables the rider and bike to function together as a system. Our new design uses air cylinders to gently cushion the rider while keeping the rider safely upright. As the rider's skill develops over the course of the week, we gradually reduce the air pressure until the rider is on his/her own. Our bike mechanic and floor director make the necessary adjustments and guide the riders as they progress.
The BikeFirst! program works with children, youths, and adults who experience difficulty getting past training wheels and onto conventional two-wheelers.
Bike First! is an event sponsored by ABI and was founded in Portland, Oregon in 2006. We are proud to have served over 500 children in our programs and are privileged to bring to Portland a program that systematically teaches individuals the skills needed to ride typical bicycles.
About the Quick Start / Refresher Course
Many individuals learn to ride their bikes, then how to start and stop. If your child can ride yet needs more focus on other skills or confidence, or if your child simply hasn't learned to ride and needs additional supports, enroll them in our Quick Start course, which runs Wednesday through Friday of Bike Week. For those who know how to ride and need guidance with advanced skills, enroll them in our Refresher course also running Wednesday through Friday of Bike Week. The new, cutting-edge technology will be available for their use in the gym as well as our outside riding area and seasoned spotters.
---
"Nothing compares to the simple pleasure of a bike ride." - John F. Kennedy

Biking is more than just exercise and transportation: it's a social activity of connection, a childhood rite of passage and a first taste of independence. This unique approach has enabled thousands of people, with a myriad of disabilities, to become independent bicycle riders.

Bike First! is proud to extend the opportunity for individuals to connect with their community through biking and share in the "simple pleasure of a bike ride."
---
Contact Us
Ann Donaca • Clinic Director • bikefirst@abicommunity.org
Contact Ann for scheduling changes for riders and volunteers and for hardship scholarship information.
Angela Vossenkuhl • Business Manager • angelabikefirst@gmail.com
Contact Angela for participant prizes, sponsor gifts, in-kind donations.
Beth Madison • bikefirstfunding@gmail.com 
Contact Beth for sponsorship, grants, and fundraising. 
---
Videos to watch with your child
---
ABI: BIKE FIRST! SPONSORS
International Pros
Safe Routes to Schools
De La Salle North Catholic High School
Svelt Racers
Boomers Burgers & Ribs (2005)
R&H Construction (2013)
Hoffman Construction (2019)
29ers
McMenamins (2017)
Multnomah Athletic Foundation (2007)
Autism Society of Oregon (2014)
Duoos Design (2006)
Anderson Painting
Multnomah Learning Academy
Cruisers
River City Bicycle (2007)
Amalfi's Italian Restaurant (2013)
Family Riders
Therapy Solutions for Kids (2006)
Ukiah Engineering (2013)
---
What people are saying about Bike First!
"Bike First! is more than a bike camp for disabled children — it's a family, a support network, a cheer leading squad and a one-stop miracle zone. Every participant takes his or her first solo pedal strokes to the sound of thundering applause, and every participant is honored in front of the group in a closing ceremony. It's a time to shine and grow and triumph." Heidi Swift, The Oregonian
"We strongly support the Bike First! mission and congratulate all participants for their efforts in this worthwhile event... we'll be back with our support!" Craig H Dodge, Director/VP, Ideate, Inc.
"As a cyclist, seeing the look on someone's face as they ride a two wheeler for the first time defies words. We all know what a positive addition biking can be to all of our lives, to watch it happen is magical." Dave Guettler, Owner, River City Bicycles
"Being part of Bike First! was a very fulfilling event in my life. It helped open up a new life long activity for these families. It allowed them be included with their peers, promoted a healthy life style, and shared in the simple pleasure of a bike ride." Clark Mason, Bike First Volunteer Spotter