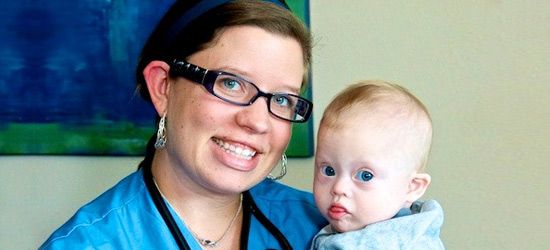 Thank you for visiting our site. The NWDSA works hard to be a resources for doctors and other medical professionals working with children with Down syndrome and other developmental disabilities, providing current, best-practices information, parent perspective, and connections to a network of other professionals in the field. Please feel free to get in touch to talk more about how we might help you support your families.
• The NWDSA New Parent Guide is a resource we offer free of charge to families who have received a Down syndrome diagnosis. To request a copy of the New Parent Guide for yourself or patients, please contact us at (503) 238-0522.

• The New Parent Outreach Page features information about the various groups and supports we offer to young families.

• Healing Hearts: Families' Experiences with Down Syndrome and Heart Surgery is a unique, parent-driven resource featuring first-hand stories of nurturing a child with Down syndrome through open heart surgery and recovery

• Reciprocal Learning Community is a unique, parent-professional partnership designed to bring current, research-based best practices information to parents of young children with Down syndrome.

• Our Genetic Testing Page outlines the work we do with medical professionals around genetic testing.
You are welcome to join us at any of our events, as a guest or as a volunteer. Please sign up for our mailing list to stay up to date on our events. Fill out our volunteer form and join our community by lending a helping hand!
---
For health resources in other languages for patients who don't speak English, please see these links...
Contact information for the NWDSA Resourcefulness Center, "Talk to a Mom" contact info, and resources in Spanish language

A PDF available in English as well as Amharic, Burmese, Hindi, Karen, and Khmer (Cambodian)