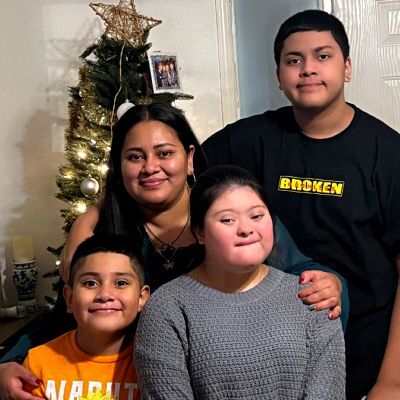 In June 2021, thanks to our partnership with the Oregon Health Authority, we were presented with the opportunity to host accessible vaccine events for our entire community. We wanted to make an effort to support the individual needs of a population that sometimes has barriers to getting vaccinated in the traditional clinics with formal settings.
First, as with everything we do, we started from our philosophy of listening to the voices of the community, and thinking about how to reduce the barriers that they shared with us.
Second, there was our commitment to inclusion; it was not going to be an event just for the disability community. We would ensure a warm welcome and individualized attention to each person who attended our events. We wanted each person who walked into one of our vaccine events to feel safe, welcome, and free to ask for any support or accommodation so that their experience would feel more like a get-together with friends than a doctor's appointment.
We have successfully incorporated this style into our vaccine events, with some adjustments to incorporate safety recommendations. Ten months later, we proudly share with you that we've hosted ten vaccination events, with a total of 375 people vaccinated. People who get vaccinated at our community events are of all ages and abilities, including a number of children and youth who have already tried unsuccessfully to get vaccinated elsewhere.
How are our events different?
We start with an atmosphere of joy. We play music and supply sweets, coloring books, posters, and our Fighting COVID and Beating COVID comic books. Volunteers welcome guests and help them navigate the process. We offer spaces where the family can gather around a person who is afraid, encouraging them until they feel ready.
In some cases, we consult with the families to find out in advance what they will need. Do they need bubbles? An outside space? A sign language or Spanish interpreter? A teddy bear to hug while they get their shot, or small toy to take home afterwards? We offered all of this, plus numbing sprays, and creams to reduce needle pain. When the final 15-minute wait is over, we have hot food like burritos and delicious tamales, bags or t-shirts, take-home food boxes, and more.
Something that has helped many people have a good experience is a vaccination plan that the person to be vaccinated makes together with a support person. This puts them in control to decide what supports they need. The plan is then communicated to us so that our team is prepared. I personally learned the value of these plans. I am a mother of three children: 15, 14 and 8 years old. I prepared well to support Ruby—my teenage daughter who experiences Down syndrome. At my suggestion, the vaccinator explained each step before inserting the needle, since this helps Ruby reduce her anxiety.
"I'm opening the alcohol to clean your arm. I'm cleaning your arm. I am applying the vaccine. Let's count, 1-2-3 and done!"
Ruby did well, but—surprisingly—when it was my youngest son Emiliano's turn, he was consumed with anxiety and his enthusiasm to get vaccinated turned to terror. It took two hours and the support of the whole family to get his first vaccination, and even so it was between crying and fighting. Anywhere else, I would have given up.
When it was time for Emiliano's second dose, we prepared ourselves with a good plan. The first step was to give Emiliano the Fighting COVID and Beating COVID comic books, created by NW Disability Support to provide education and information about COVID-19 in a fun way, available in English and Spanish.
The day of the event, I spoke with the vaccinator and asked her to fill out any required paperwork before Emiliano arrived. I also asked them to use an aerosol anesthetic spray to reduce the pain from the needle in his arm. As soon as Emiliano came in, he sat down, lifted his shirt, and looked me in the eyes as I bent down to be at his level. He said, "Hold my hand, please," and without further ado, he got his vaccine. In the end, I told him, almost crying: "I'm so excited that you did this. I am very proud of you."
Emiliano shared his vaccination experience with the Oregon Health Authority: covidblog.oregon.gov/vaccine-voices-im-so-proud-a-momof-disabled-children-soothes-theirvaccine-anxiety/

"My name is Emiliano, and I am 8 years old, and I got both of my vaccines and I am very proud of myself and the very first time I was nervous, but me and my mom made a plan and it helped me a lot and now I feel a lot more safer."