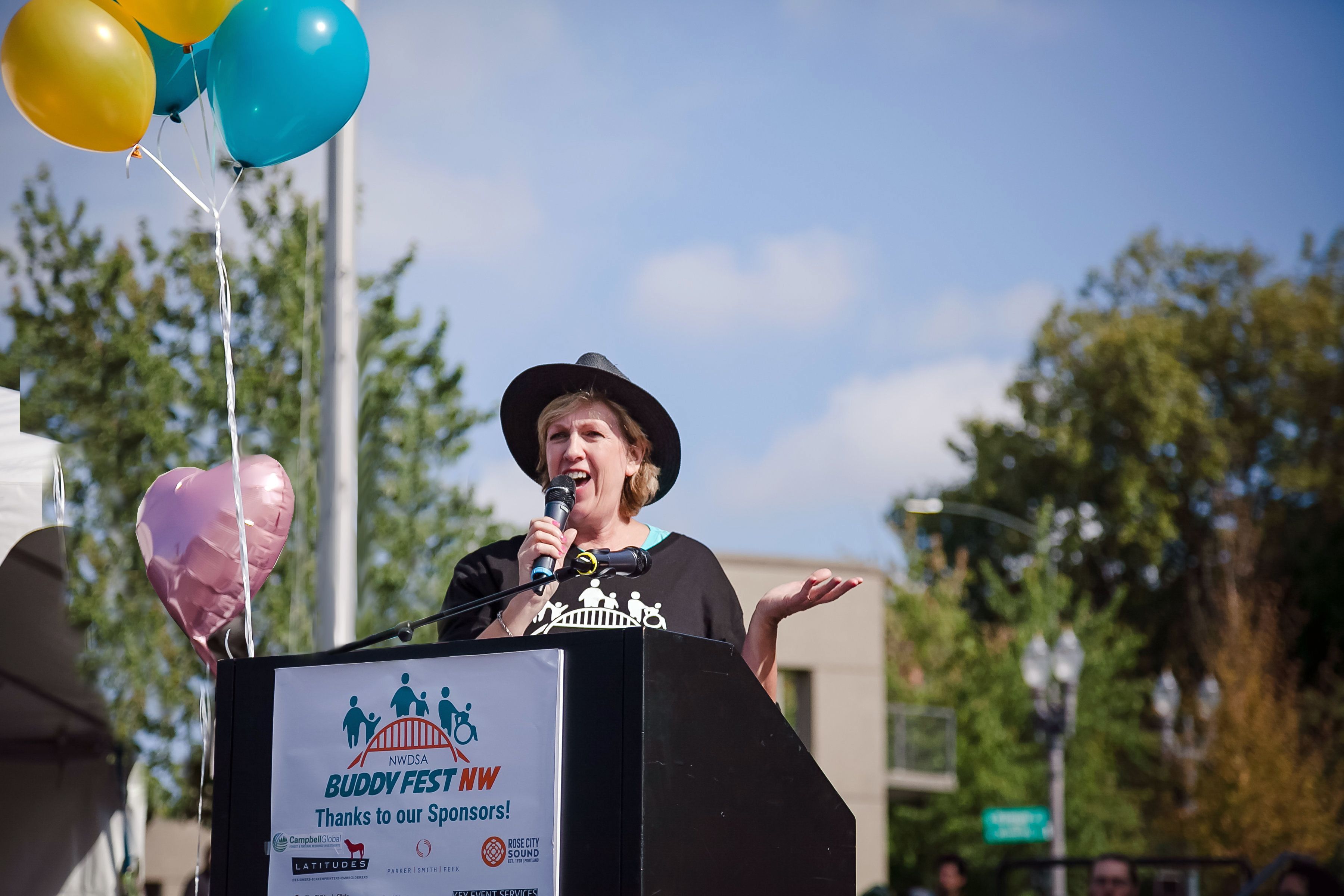 I am grateful for a chance to say goodbye to you all. Twenty years have gone by so quickly and in that time my work has connected me
with so many amazing and beautiful people.
We have worked hard together weaving the cloth of community and we are each threads joining together to create strength and warmth. Our world is not yet open to all that people with disabilities have to offer and there are real challenges and barriers that our organization works to reduce. This work will continue after I retire and I know how much it is needed.
I will miss working alongside my great accomplice Angela Frome and the staff and board, but I am excited to see them moving out of the shadow of COVID-19, and am impressed by their determination to keep growing our work.
We have a skilled Interim Executive Director in Kris Balliet and a thoughtful process to find our next permanent ED. My thanks also go to our Board Chair Mike Rosen, who is leading fearlessly.
In my time as ED there has been hard work, joy, and so many celebrations. I have seen profound changes from the programs, outreach, and conferences we all create together. Among my favorites is the Kindergarten Inclusion cohort, the work with the Hispanic community, youth, and the banners and billboards with proud faces of our community 20 feet wide across the city! Always at the heart of the work is love and an embrace of welcome that I trust will continue. Not many offices offer the chance to hold a newborn baby and share the first genuine congratulations with their parents. We have seen faces change and smiles spread, we have witnessed possibilities growing and expectations rising and that is real strength.
We have also been unafraid to raise our voices and challenge injustices in schools and community, create new conversations, and support the changes we need. Thank you to every one of you that stands up for justice and dignity; it makes the world better for everyone.
All of our work connects to the goal of creating a loving and inclusive community. It has been an honor to serve that mission and also to see its impact on pride, awareness, and visibility for people with disabilities. I have also seen my own family grow and learn from so
many leaders and mentors that are a part of our circle.
We have all been through a lot with COVID-19 and the isolation and risks it brought. I enjoy music and poems when I am stressed. One of my favorites is "Beannacht" by John O'Donohue and it reminds me of the cloth of community all of our threads weave:
And so may a slow
Wind work these words
Of love around you
An invisible cloak
To mind your life
Peace love and joy to you all, and see you at a Buddy Fest NW, All Born (in) conference, or celebration some time soon!
Sincerely,
Angela Jarvis-Holland