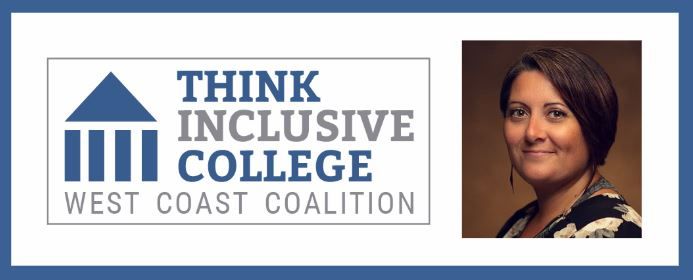 Hello,
How are you? We hope you are well and staying safe.  
We are reaching out as we are pleased to share an update with you. Although COVID cancelled our April 2020 College and Career Success for All Transition Summit in Portland, Oregon there is still a lot of work that has been taking place at institutions of higher education, our organization, and beyond in effort to open doors to college for students with intellectual disability (ID).
Our Think Inclusive College West Coast Coalition has been working over the last few months to support institutions of higher education in our region with their applications for round three of Transition and Postsecondary Programs for Students with Intellectual Disabilities (TPSID) funding. We have provided data from their presentations at our events, connections within our network, and letters of support.  
We are excited that our partners Highline College and Portland State University (PSU) have applied for new awards for 2020-2025 for their TPSID model demonstration projects. These grants are intended to support model demonstration programs that promote the successful transition of students with intellectual disabilities into higher education and enable the creation or expansion of high-quality, inclusive model postsecondary education programs for students with intellectual disability. To learn more about the TPSID program and currently funded projects, visit What is TPSID?
While we recognize TPSID applications are still in process and have not been awarded yet, we want to thank Highline, PSU, and all the other community colleges and universities in the western states (Washington, Oregon, California, Idaho, Nevada, Utah, Arizona, Montana, Wyoming, Colorado, New Mexico, Alaska, and Hawaii) and across the country for applying. We wish them success in being selected as recipients of this year's federal TPSID funding opportunity. We are encouraged by their effort and work to begin, sustain, and expand options for students with ID to attend college, as we continue our work to create and expand higher education opportunities in the western United States. We look forward to more options for students with ID and providing ongoing Coalition support.
As we look to the future we hope you have saved the date for next year's regional Transition Summit on Friday, April 16, 2021. Whether this event is in person or virtual together we will learn and share with national and local experts about transition and inclusive college for students with ID. More details will be shared as the current pandemic unfolds over time. We will adapt to this adversity and with you alongside us our combined resilience will build capacity for equitable college opportunities for individuals with intellectual disability. 
Take care,
Jamie Burch (she/her)
NWDSA | ABI Project & Community Coordinator
Northwest Disability Support
jburch@nwdsa.org