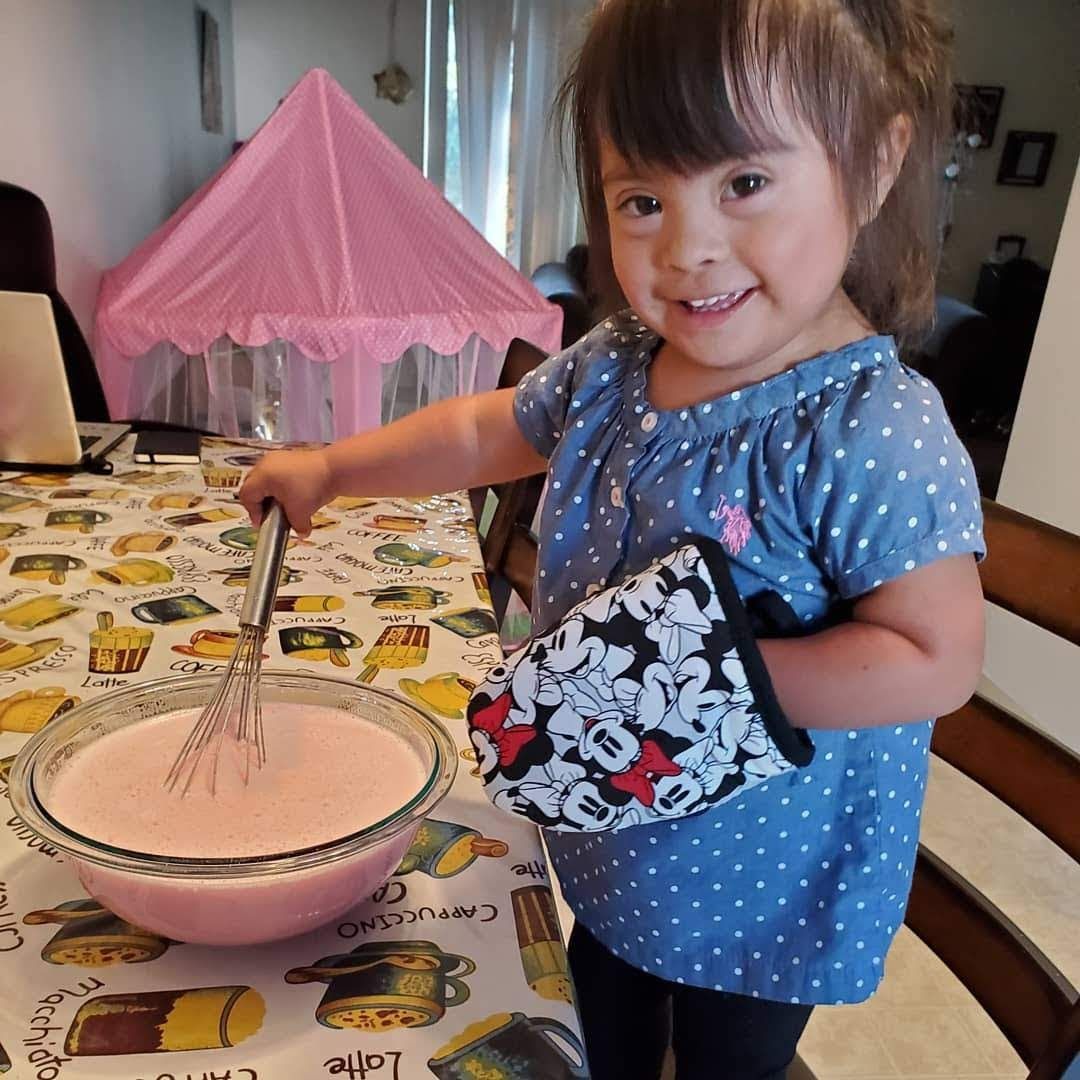 Nota: Esta historia fue escrita a raíz de una entrevista extensa en Febrero de 2020.  En nada sospechamos que pronto toda esta rutina cambiaría radicalmente.  Hoy, desde su cuarentena, Yoisy nos escribe: Nuestra rutina ha cambiado, pero todo bien. Los días son más largos para mi Violeta, pero estamos aprovechando el tiempo para aprender a ir al baño. Esperamos que pronto acabe todo esto porque es necesario socializar y salir al aire libre. Y extrañamos nuestras visitas a la oficina de NWDSA.
Mi nombre es Yoisbeth Sarao y nací en Querétaro, Mexico, aunque he vivido en muchas partes de Mexico.  Llegué a los Estados Unidos cuando tenía 10 años, y actualmente vivo en Vancouver con mi esposo y mi niña Violeta, una niña bella, dinámica y muy activa.
Hace tres años me enteré que la bebé que esperaba tenía Síndrome de Down. Al principio fue difícil para mi entenderlo y aceptar. Nunca había tenido contacto con alguien con Síndrome de Down y tenía muy poca información.  Pero felizmente tuve mucho apoyo de mi familia, que me animaban diciendo que todo iba a estar bien.
Mi embarazo era muy tranquilo, pero cuando nació Violeta a las 34 semanas empezaron las complicaciones. Ella tuvo una rotación mala de los intestinos y tuvo que tener cirugía. Pasamos un mes, tres días en cuidados intensivos con ella.  Por gran parte de este tiempo, ella quedó entre la vida y la muerte, y en mis anhelos de verla sobrevivir, sentí que el Síndrome de Down era lo de menor importancia. Sin embargo, durante todo este tiempo yo empecé a informarme sobre lo que venía, o sea, qué era el porvenir de mi vida con la Violeta. 
La estancia en el hospital fue difícil, pero pienso que el tiempo que estábamos allí me ayudó a pensar. Yo mismo me decía: "Después de todo lo que ha pasado, tengo que echarle ganas para sacar adelante a mi hija."  A la vez, tendría que decir que durante nuestro tiempo en el hospital, los doctores y los consejeros me asustaron un poco.
Decían que ella iba a tardar en hacer esto y el otro: tardar en caminar; tardar en hablar; tardar en aprender, etc.  Así que yo decía, ¿Cómo lo voy a hacer? ¿Quién me va a ayudar? Pero cuando salimos de allí yo y mi esposo decimos: "Violeta está en la casa, y Violeta es una niña normal. No está enferma, no hay nada que hay que curarle, nada. Nosotros tenemos que hacer todo lo que está en nuestras manos para que ella tenga éxito en todo."
Obviamente nos hicimos de personas, como las maestras que vienen a la casa para ayudar, la terapia, los que dan apoyo, todo eso. Sin embargo, por un tiempito, yo seguía pensando: "Violeta es una niña que tiene Síndrome de Down, a lo mejor va a estar en la cama mucho tiempo." Pero Violeta comenzó a actuar como una bebé normal. Se movía, daba vueltas en la cama, le poníamos en el piso con los juguetes y empezaba a jugar, y me di cuenta que todo lo que yo pueda, tengo que enseñarle. Cada cosa que miraba para hacer con los bebés, pensaba: "Esta me va a ayudar". Y me di cuenta que ella estaba respondiendo, y eso a mí me emocionó mucho, porque dije, eso no es nada malo, ella va a poder hacer todo y lo va a hacer bien. Y desde este entonces, yo me he dedicado a esto. Yo amaba a mi trabajo, pero dejé mi trabajo por un tiempo.  Mi esposo me apoyó diciendo "Yo trabajo y tú puedes estar con la niña para ayudarle y para que tenga éxito en todo lo que queramos que aprenda."
Desde la primera vez que vine al taller de NWDSA que se llama RLC, yo dije "yo tengo que venir a esto", porque hay otras mamás y otras personas que comentan como hacen, y en que están trabajando. Le hacen a uno entrar como en familia, y siempre tienen muchas cosas que enseñar. O a veces se da cuenta uno: "Ya estoy haciendo esto, está bien".
 Mi primer miedo era cuando se tardó en caminar. No caminó, como muchas bebés a los 10 meses o al año. Violeta casi caminaba hasta el año y medio, mas. Entonces, aprendí a decir: "No pasa nada, está bien." Y de poco a poquito ha hecho todo lo que hace hasta ahora, y es muy compensador, muy feliz de hacerlo.
Hoy, nuestros días se pasan en levantarnos, hacer rutinas, aprender unas cosas nuevas. Siento que por completo borré la idea de Síndrome de Down. Mis días con Violeta ahora son como una pila.
Por la mañana tenemos la oportunidad de levantarnos temprano con el papa, como a eso de las 7:30. Yo me despierto primero, hago lo que tengo que hacer: lavarme la cara, preparo la ropa de Violeta, y tratamos de tomar café con mi esposo antes de despertarle a Violeta.  Pero Violeta sabe, muchas veces se despierta sola y sale del cuarto, viene y se sienta en el piso un tantito, como despertándose. Luego, yo le hablo: "¿Violeta, ya estás lista? Y cantamos, siempre la canción de "Good morning".  Y ya que pasa esto, ella me viene y hace la seña para pedir comida, o leche. Son señas que hemos practicado, porque los tres hemos trabajado en aprender una que otra seña. Todavía, no habla, solo unas palabras, pero tiene muchas ganas de hablar y le falta poquito. Hay alrededor de unas 25 palabras usando señas que se sabe, y de estas 25 a lo mejor 20 las dice ella sola con iniciativa, otras le tengo que ayudar. Me imagino que cuando empieza a hablar, va a ser muy parlanchina.
Después de comer, su papa sale a trabajar y ya nos quedamos ella y yo. La bajo de su silla y me ayuda a lavar los trastes, y luego le saco algunas prendas y le pregunto: "¿Cuál quieres ponerte?", o "¿Cuál te gusta?" para que aprenda a escoger.
A mí me gustan las mañanas, así que trato de hacer todas las terapias, las citas, en la mañana. Estamos recibiendo cuatro tipos diferentes de terapia en el momento. O vamos a la librería, para asistir a la Hora de Cuentos para niños. A Violeta le gusta escuchar las canciones, pero cuando es tiempo de sentarse, ella quiere estar en frente. Le gusta mucho levantarse para ver el libro, o a cambiarle la página de los libros. Es muy social dentro del círculo, y a ella le gusta estar con otros niños.  La única cosa que le estoy enseñando ahora es que no vaya a abrazarlos, porque quiere abrazar a los niños, quiere darles un beso, así.  A muchos niños de su edad, no les gusta eso. Así le digo: "Espera un tantito, pide permiso."
La hora del cuento es una vez a la semana, pero también vamos otros días, porque en la librería de aquí cerca hay muchas cosas para niños. Saca los trastes y juega algo bonito. Puedo decir que es muy independiente. Por ejemplo, ella está muy bien con que me digo "me siento aquí". Ella se va, y explora y cuando me quiere enseñar algo me habla, o me lo trae ella solita.
Otra cosa que tratamos de hacer por lo menos dos veces en la semana es ir a nadar.  Le metía al agua de los seis meses, y a ella le gustó y ahora le gusta. La conocen allí, y ella entra con su toalla y saluda a la recepcionista, "hola", y vamos. Ella quisiera entrar solita, pero yo la tengo que cuidar todavía. Ve todo lo que los demás niños hacen, capta, y es una de sus actividades favoritas. La única dificultad ahora es que no quiere salirse. Antes esto era muy fácil, pero ahora le enseño el reloj y le digo: "Mira esto allí, cuando da toda la vuelta, ya nos vamos." Pero quiere quedarse.
Ella reconoce los lugares donde vamos. Llegamos seguidas donde trabaja su papa en un restaurante de comida orgánica en Lake Oswego. Cuando nos estacionamos allí y ella ve el rótulo grande, dice: "Oh Papá, ¡Papá!" Cuando regresamos a la casa, ella me hace señas o me enseña que está emocionada porque llegamos a casa.  Yo creo que es eso lo que me emociona mucho – ella responde mucho. A veces las expectativas que uno le pone a los niños con Síndrome nos hacen caer en este error de limitar.  Con Violeta he querido evitar caer en eso, porque ella ha respondido muy bien.
Quiero pensar que es una niña bien feliz, porque ella disfruta de todo lo que hace. Cuando ella llora, es por algo que en verdad no quiere, que se siente mal o está muy cansada y quiere dormir. Yo he aprendido también a entenderla y a responder a lo que ella necesita.
Después de las actividades de la mañana, regresamos. Ya es un tiempo cuando vamos a jugar tranquilas, porque nunca le ha gustado dormir de día. En las tardes, sacamos los libros normalmente. Ahorita trabajamos mucho para que ella aprenda a expresar sus preferencias: por ejemplo, yo le digo: "¿Cual quieres leer? ¿Esto libro o este?" Todavía no lo hace, todavía no puede responder bien, pero yo quiero que ella sea independiente de esta forma, que ella sepa expresar lo que ella quiere, lo que necesita. Otras veces vamos a su cuarto y si lavé la ropa, podemos guardarla. Una cosa que le gusta a ella mucho hacer ahorita, de que tiene sus 3 años, es jugar con sus muñecas. Entonces, me pide que enrolla las muñecas y que les damos de comer, entonces jugamos ella y yo. Salimos a caminar, la llevo a caminar, a parquecito para que anda afuera.
En la noche, trato de que no mire tanta la tele. Pero a veces me pide ver un video y se lo pongo. Cuando ya es tiempo para irse a acostar, y ella sabe que le voy a poner su piyama, le gusta ir a traer su banquito y ponerse en frente del espejo para lavar sus dientes. No alcanza bien allá todavía, pero ya quiere subirse allí. Siempre en la noche cuando vamos a dormir, cantamos. Hay varias canciones que le gustan a ella y sabe hacer los gestos con las manos. A veces todavía espera a su papá; ya que vea que llega su papa, ok ya pues, duerme. Pero muchas veces cuando llega su papa, ya está dormida. 
Así son mis días con ella.  Ocupados, felices, tratando de hacer lo más posible, aprendiendo tantas cosas.  Me acuerdo que cuando era chica yo quería un bebe, y siempre pensé en cómo iba yo a hacer cuando tenga un bebe.  Esta parte fue lo que me asustó mucho cuando supe que ella iba a tener Síndrome de Down. Pero ahora veo que mis días son llenos de actividades con mi bebé que nunca me pudiera imaginar. Leo muchas cosas sobre familias y otras personas para darme una idea, y a veces digo, "Violeta está bien". No todas las familias tienen esta bendición.
Yo soy bilingüe, pero hablamos mucho español en la casa.  Me sorprende mucho como ella ha reaccionado con los dos idiomas.  Antes pensaba, "Ay no, le tengo que hablar inglés para que ella aprenda," y cuando yo estoy con ella solita, le hablo en inglés.  Todas las terapias están en inglés, las maestras que vienen todo es en inglés. Y ahora que va a la escuela va a ser como una extra ayuda porque en la escuela le van a hablar solo en inglés. Pero, yo sí la veo usando los dos idiomas, porque veo que comprende.  En español dice como "agua" o como "leche" y ya en ingles dice "please" dice "come", poquitas palabritas así.  Yo quisiera que ella aprenda los dos idiomas. Que alguien [con síndrome de Down] esté bilingüe, no es imposible. Yo creo que es posible.
Mi meta, mi objetivo principal para mi hija es que ella pueda ser lo más independiente posible. Que ella pueda por sí misma andar por la vida, que pueda decidir: "Quiero ir a la tienda a comprarme unas papas" - no sé, algo así de simple, pero que ella no dependa de nadie. Que no viva con limitaciones que la gente le imponen por el hecho de que tiene Síndrome de Down, pensando que ella no puede porque tiene Síndrome de Down, o que no hace porque tiene Síndrome de Down. Entonces mi meta es trabajar día a día con ella, a que aprenda todas las cosas.  Tal vez suena difícil, y tal vez va a ver tiempos difíciles, pero no es imposible, ¿verdad?
---
Note: The story below was based on an extensive interview in February 2020. At the time, we had no idea that the routines described would soon be changing dramatically.  Today, from quarantine, Yoisy writes: "Our routine has changed, but we're okay.  The days feel longer for my Violeta, but we're taking advantage of the time to learn to use the potty.  We hope this ends soon, because it's important to socialize and go out. And we miss our visits to the office."
My name is Yoisbeth Sarao. I was born in Querétaro, Mexico, but I've lived in many parts of Mexico. I came to the U.S. when I was 10 years old, and I currently live in Vancouver, Washington with my husband and my daughter Violeta, a beautiful, dynamic and very active little girl.
A little over three years ago, I found out that the baby I was expecting had Down Syndrome. At first it was hard for me to understand and accept this. I'd never had any contact with someone who had Down Syndrome, and I had very little information. But, happily, I got a lot of support from my family who encouraged me, saying that everything was going to be fine.
My pregnancy was very easy, but when Violeta was born at 34 weeks, the complications began. She had a twisted intestine and they had to operate. We spent a month and three days in neonatal intensive care with her. For much of this time she was poised between life and death; in my yearning for her to survive, I felt that the least important thing was her Down Syndrome. Still, during that whole time I began to inform myself about what was coming; that is, about my future life with Violeta.
The hospital stay was difficult, but I think that the time we were there helped me to think. I told myself: "After everything that's happened, I have to give my all to help my daughter get ahead." At the same time, I have to say that during our time in the hospital the doctors and the counselors scared me a little. They said that she was going to be late doing this, that and the other thing: late walking; late talking; a late learner, etc.  So, I thought: "How am I going to do this? Who'll help me?" But when we left there, my husband and I said: "Violeta is home and Violeta is a normal child. She's not sick, there's nothing she has to be cured of, nothing. We have to do everything that's in our hands so that she's successful at everything."
Obviously, we got help from people like the teachers who come to the house to help, the therapists who give support, all that. Still, for a short time, I was still thinking: "Violeta is a baby with Down Syndrome, she may just be in bed for a long time." But Violeta began to develop like a normal baby. She moved, rolled over in bed, and when we put her on the floor with her toys, she began to play, and I realized that I have to teach her everything I can. Every activity that I saw for babies, I thought: "That will help me." And I realized that she was responding, and that got me very excited because I said, "This is nothing bad. She's going to be able to do everything, and she'll do it well.  And from that time on, I've dedicated myself to this. I loved my work, but I left work for a time. My husband supported me, saying: "I'll work and you can stay with the baby to help her and so that she'll be successful in everything we want her to learn."
From the first time that I came to the NWDSA workshop that they call the RLC, I thought: "I have to come to these", because there are other mothers and other people who talk about the things they do and what they're working on. They welcome you like family, and they always have a lot of things to teach. Or sometimes you find out: "Oh, I'm already doing that, that's good."
My first fear was when she was late walking. Violeta didn't walk at 10 months or a year, like many babies. She didn't walk until she was nearly a year and a half, or more. So then, I learned to say: "Nothing's going on, it's fine." And little by little, she's done everything that she can do up until now, and she's very well balanced, very happy with what she does.
My days with Violeta now go by in a rush. Our days are spent in getting up, going through our routines, learning some new things. I feel that I've erased completely the idea of Down Syndrome.
In the morning, we get up early with Violeta's Dad, around 7:30 am. I get up first, I do the things I have to do: wash my face, get Violeta's clothes ready, and I try to have a cup of coffee with my husband before waking Violeta. But Violeta knows. Often, she wakes up by herself and comes out of the room, and sits down on the floor a little, like she's waking up. Later, I ask her: "Violeta, are you ready?" And we sing the song "Good Morning". After that, she comes up to me and makes the sign to ask for food or milk. These are signs we've practiced, because all three of us have worked to learn a few signs.  Violeta doesn't talk yet, except for a few words, but she has a great desire to talk and she's close. She knows about 25 signs – 20 she does by herself and the other 5 I help her with. I imagine that when she does start to talk, she's going to be a little chatterbox.
After we eat, her father goes to work and she and I are left together. I take her down from her chair and she helps me wash the dishes. Later I take some different clothing out for her and ask her: "Which do you want to wear?" or "Which one do you like?" so that she learns to choose.
I like mornings best, so I try to schedule all the therapies and appointments in the morning. At the moment, we're receiving four different types of therapy. Or else, we go to the children's story time at the library. Violeta likes to hear the songs, but when it's time to sit she wants to be up front. She likes to get up to see the book or turn the page of the books. She's very sociable in the circle, and she likes being with other children. The only thing I'm teaching her now is not to hug them, because she wants to hug the children, give them a kiss, things like that. A lot of children her age don't like that, so I tell her: "Wait a little, ask permission."
Story time is once a week, but we also go on other days because the library here has a lot of things for children. Violeta takes out the toy dishes and plays happily. I can say that she's very independent. For example, she's fine if I tell her: "I'm sitting here".  She goes off and explores and when she wants to show me something, she talks to me, or she brings it to me herself.
 Another thing that we try to do at least twice a week is go swimming. I put her in the water at six months and she liked it, and now she still does. They know her there, and she goes in with her towel and greets the receptionist, "Hi" and in we go. She'd like to go in by herself, but I still have to watch her. She sees everything that the other children do, she learns from them and it's one of her favorite activities. The only problem now is that she doesn't want to leave. Before, it was easy, but now I show her the clock and tell her: "Look at that, when the hand has gone all around, we're leaving." But she wants to stay.
She recognizes the places we go. We go frequently to the organic food restaurant in Lake Oswego where her father works. When we park there and she sees the big sign, she says, "Oh Papa, Papa!" When we come back home, she signs or shows me that she's excited because we're home. I think this is what excites me most – she's so responsive. Sometimes the low expectations you put on children with Down Syndrome make us fall into the mistake of limiting them. I've tried to avoid falling into that with Violeta, because she's responded very well.
I want to think that she's a very happy child, because she enjoys everything she does. When she cries, it's because she really doesn't want something, she's feeling sick or she's very tired and wants to sleep. I've also learned to understand her and to respond to her needs.
After the morning activities, we go back home. That's a time for playing quietly, because she's never liked napping. In the afternoons, we normally take out the books. Right now, we're working hard so that she learns to express her preferences. For example, I ask her: "Which book do you want me to read? This one or that one?"  She still doesn't do it, she still can't answer, but I want her to be independent this way, to know how to express what she wants, what she needs. 
Other times we go to her room, and if I washed the clothes, we can put them away. One thing she likes a lot right now, since she turned three, is to play with her dolls. She askes me to bundle them up, to feed them, and we play with them, she and I.  Or we go out for a walk to the little park so that she can get outside.
At night, I try not to have her watch a lot of television. But sometimes she asks to see a movie and I put it on for her. When it's time to go to bed, and she knows that I'm going to put her pajamas on, she likes to bring over her little stool and try to get up in front of the mirror to brush her teeth. She doesn't really reach yet, but she already wants to get up there. We always sing at night when she's ready for bed. There are several songs that she likes, and she knows how to make the hand movements. Sometimes she still wants to wait up for her Papa; and when she sees that Papa's arrived, ok, then she goes to sleep. But a lot of times, when her father comes home, she's already asleep.
That's how my days with her go. Busy, happy, trying to do as much as possible, learning so many things. I remember that when I was a little girl, I wanted a baby and I would always thing about what I would do when I had a baby. This was one part of the things that scared me a lot when I learned that she was going to have Down Syndrome. But now I see that my days are even more filled with activities with my baby than I could ever have imagined. I read a lot of things about other families and other people to give me an idea and sometimes I say: "Violeta's doing fine."  Not all families have this blessing.
I'm bilingual, but we speak a lot of Spanish at home. I've been very surprised how she's reacted to hearing two languages. Before, I thought: "Oh no, I have to speak English so she'll learn", and when I'm alone with her I speak English. All the therapies are in English, the teachers who come to the house, all of that is in English. And now that she'll be going to school, it's going to be like an extra help because at schools they're going to speak only English to her. But I do see her using two languages, because I see that she understands both. In Spanish she says something like "agua" [water] or like "leche" [milk], and in English she can say "please", she says "come", a few little words like that.  I'd like for her to learn both languages. For someone [with Down Syndrome] to be bilingual – it's not impossible. I believe it's possible.
My goal, my main objective for my daughter is for her to be as independent as possible. That she can navigate through life by herself, that she can say: "I want to go to the store to buy some potatoes", I don't know, something that simple, but that she doesn't have to be dependent on anyone. That she doesn't live with the limitations that people impose because she has Down Syndrome, thinking that she can't because she has Down Syndrome, or that she doesn't do such and such because she has Down Syndrome.  My goal then is to work with her, day by day, so that she can learn everything.  It sounds difficult, maybe, and maybe there'll be some hard times, but it's not impossible, right?