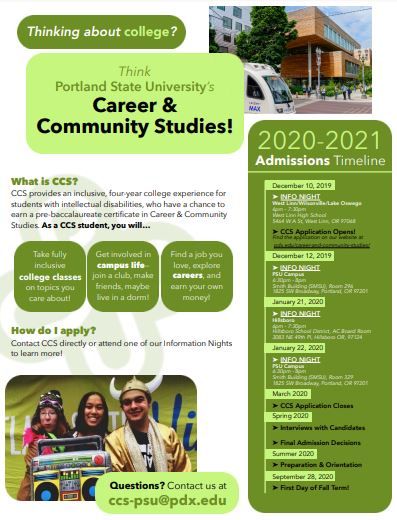 The Think Inclusive College West Coast Coalition is dedicated to developing, expanding, and improving inclusive higher education options for people with intellectual disability in Oregon and beyond. It is a collaboration of higher education professionals, transition educators, inclusive college advocates, parents, and youths age 15 to 25. We host an annual post-secondary Summit with national TA and support and encourage you to join us to increase options and create powerful, positive change!
Below is information regarding the upcoming information nights at Portland State University to find out more about their Career and Community Studies certificate and experience. Click here to download flyer.
Thinking about college? Think Portland State University's Career & Community Studies!
What is CCS?
CCS provides an inclusive, four-year college experience for students with intellectual disabilities, who have a chance to earn a pre-baccalaureate certificate in Career & Community Studies. As a CCS student, you will…
➤Take fully inclusive college classes on topics you care about!
➤Get involved in campus life -- join a club, make friends, maybe live in a dorm!
➤Find a job you love, explore careers, and earn your own money!
How do I apply?
Contact CCS directly or attend one of our information nights (below) to learn more!
2020-2021 Admissions Timeline
December 10, 2019
➤ INFO NIGHT
West Linn/Wilsonville/Lake Oswego
6pm - 7:30pm
West Linn High School
5464 W A St, West Linn, OR 97068
➤ CCS Application Opens! Find the application on our website at
pdx.edu/career-and-community-studies/
December 12, 2019
➤ INFO NIGHT
PSU Campus
6:30pm - 8pm
Smith Building (SMSU), Room 296
1825 SW Broadway, Portland, OR 97201
January 21, 2020
➤ INFO NIGHT
Hillsboro
6pm - 7:30pm
Hillsboro School District, AC Board Room
3083 NE 49th Pl, Hillsboro OR, 97124
January 22, 2020
➤ INFO NIGHT
PSU Campus
6:30pm - 8pm
Smith Building (SMSU), Room 329
1825 SW Broadway, Portland, OR 97201
March 2020
➤ CCS Application Closes
Spring 2020
➤ Interviews with Candidates
➤ Final Admission Decisions
Summer 2020
➤ Preparation & Orientation
September 28, 2020
➤ First Day of Fall Term!
Questions? Contact us at ccs-psu@pdx.edu!