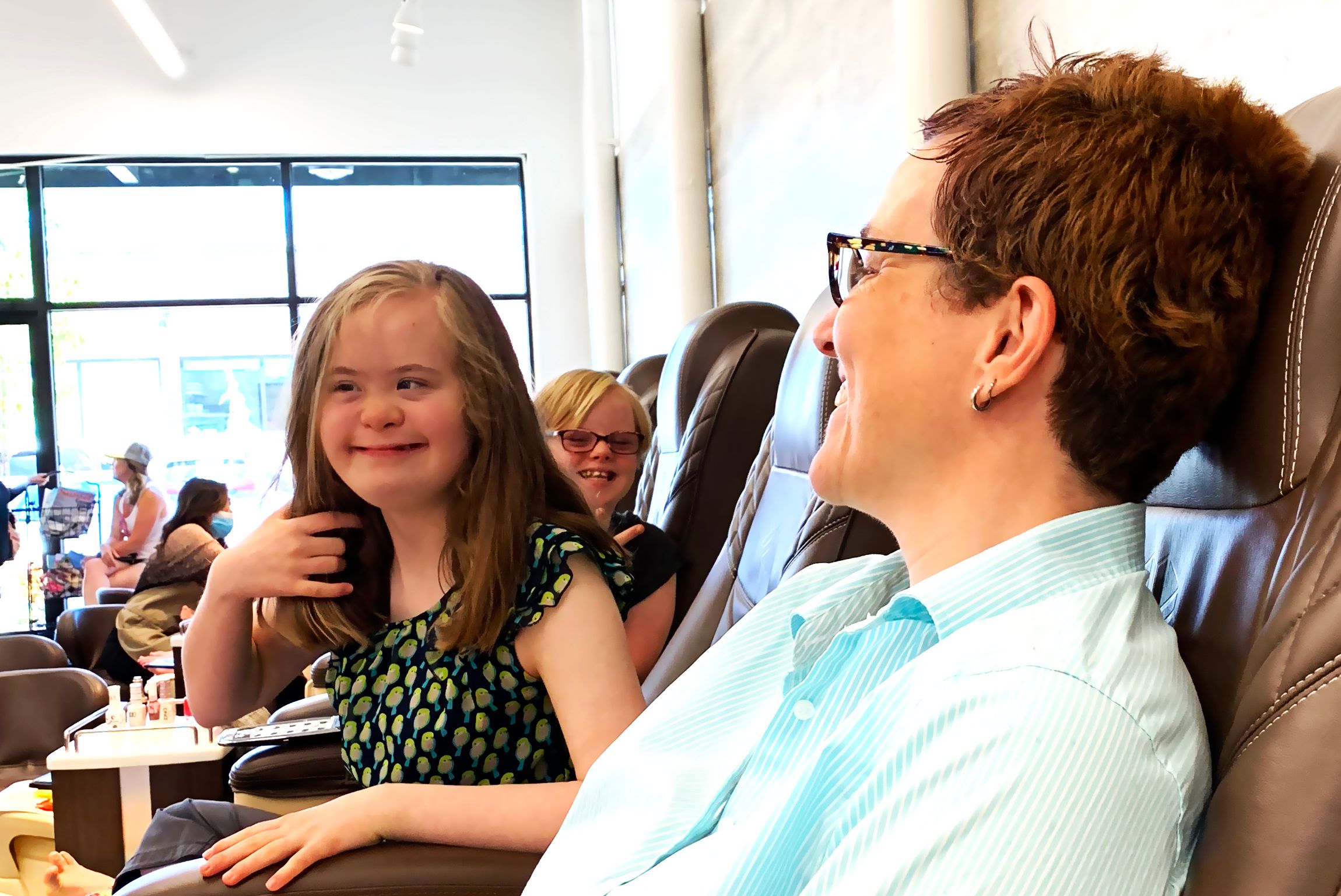 By Peyton Douglas-Doran
Getting a pedicure can be tricky for me. Sometimes having my feet touched is a little uncomfortable. My mom says the technical term is Sensory Defensiveness.
The other day, I went to a pedicure party with my friend Adara. I was pumped up to get to the nail salon. The polishes were really fancy. I picked a bright red color.
There were a lot of black chairs, but they were not just ordinary chairs; they were massage chairs! I sat down in the middle between Adara and my mommy. I really liked the feeling of the massage on my back and my neck.
I thought the water was way too hot, so my mom asked them to add cold water. She had to ask them a lot of times. When it finally cooled off, it felt good. Then it was time for the pedicure.
Jane sat down and got ready for the pedicure. It seemed like she wanted to get it over with. She tried to put my feet up on the white stool, but I wanted to keep my feet in the water for a little while. She did it again, and I put my feet back in the water again.
She did it again a third time, but I put them back in the water again. Jane looked at my mom and said, "She needs to put her feet up and let me do the pedicure, but she won't let me." My mom told her I need extra time to adjust to new sensations, especially on my feet. She asked Jane to give me a minute. But she seemed impatient. "Why not just forget about the pedicure and sit and enjoy the water," Jane said, and stormed off.
I will admit that I was a little depressed at the moment and I had a few tears. I wanted to just go home, but another part of me wanted to have the pedicure. My mom tried to comfort me by wiping away the tears and holding my hand. Adara held my other hand like a good friend.
But I still felt indignant. I said, "I'm ready for my pedicure now." My mom said she thought we might need to do it at home because everyone else was nearly done. But I said again, "I'm ready for my pedicure now." The manager asked if I just wanted to get the polish put on my feet. And
I said, "Yeah, I would like that."
He asked Mary to help me. She was a kind and sweet person. She asked, "May I have your feet?" She took her time. When she massaged my feet and legs, the lotion felt good.
My mom and Abby (Adara's mom) were proud that I spoke up. They didn't mind that it took me a little while to get used to things, and they were excited for me to get my pedicure. I thought my toes looked really cool. I did it!
Anyone can be anything. If you feel sad or happy or mad, listen to your heart. When you're worried about something, use your voice and your facial expressions to speak up and face your fears. You can overcome your fears and do it!