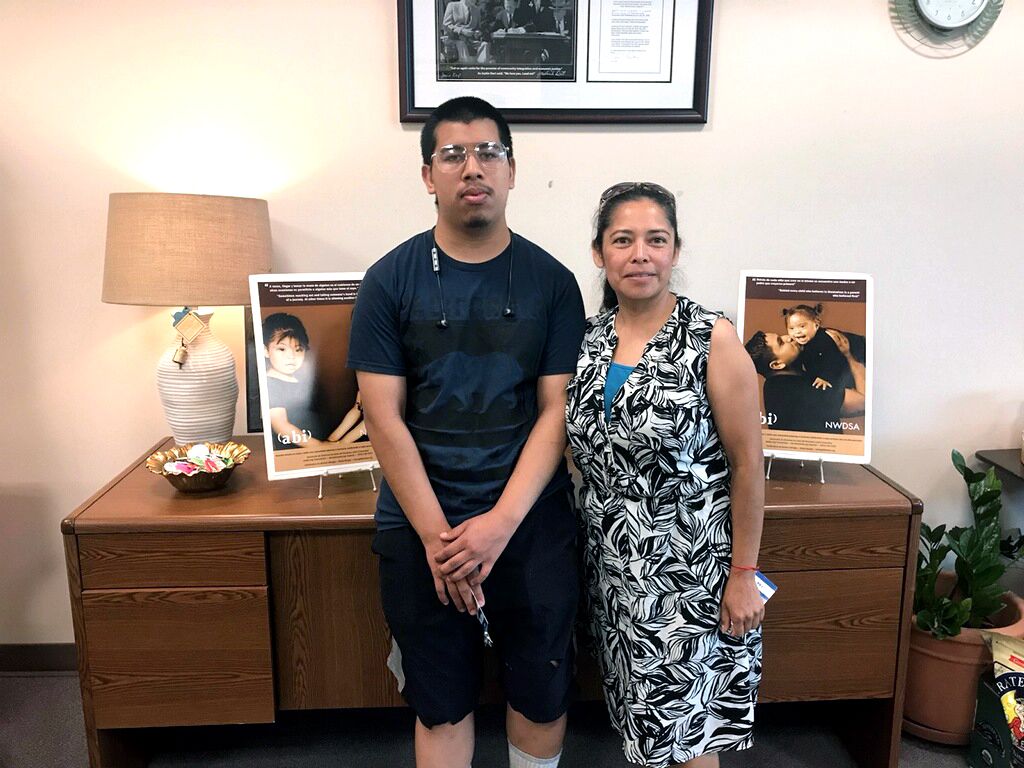 Por Elvira Sanchez
Tengo tres hijos: Paola, de 22 años, Natanael, de 18 años, y Uriel, de 15 años.
Natanael fue diagnosticado con ADHD y ADD en el kinder y su distrito escolar lo colocó en un Plan de Educación Individual (IEP).
Pasaron diecisiete años y mi hijo estaba a punto de terminar la escuela secundaria. Comencé a preguntarme: "¿Qué habrá para mi hijo después de la secundaria?"
La escuela comenzó a hablar sobre un plan de transición que tenían para mi hijo. Francamente, estaba confundida con todo el tema de la transición.
Tuve el placer de conocer a Angela Jarvis-Holland de ABI y ella me informó sobre los servicios y recursos disponibles.
Me puso en contacto con María, la Coordinadora Bilingüe de ABI, y comencé a aprender acerca de la transición de la escuela secundaria. Aprendí que hay más de una opción disponible para mi familia.
Como padres, no estamos solos. Aprendí que no tengo que ser una experta en todas las materias, pero es importante conectarse con organizaciones como ABI para que nos ayuden y guíen.
También aprendí que a veces tenemos que abrirle el camino a nuestros hijos y no esperar a que otros lo hagan. Este proceso me inspiró a no solo seguir aprendiendo, sino también a informar a nuestros jóvenes sobre sus opciones después de la escuela secundaria. Comencé un grupo de jóvenes con el propósito de ayudarlos a explorar sus intereses profesionales y a que se preparen para la vida después de la secundaria.
---
Looking ahead: What comes after high school?
By Elvira Sanchez
I have three children—Paola, 22-yearsold, Nathanael, 18-years-old, and Uriel, 15-years-old.
Nathanael was diagnosed with ADHD and ADD in kindergarten and his school
district placed him on an Individual Education Plan (IEP).
Seventeen years passed and my son was about to finish high school. I began to ask
myself, "What will there be for my son after high school?"
The school started talking about a transition plan they had for my son. Frankly, I was confused with the whole transition topic.
I had the pleasure of meeting Angela Jarvis-Holland from ABI and she informed
me about the services and resources available. I contacted Maria—ABI's
Bilingual Coordinator—and I began to learn about high school transition. I
learned that there is more than one option available to my family.
As parents, we are not alone. I learned that I do not have to be an expert in all
subjects, but it is important to connect with organizations like ABI to help
support and guide us.
I've also learned that sometimes we have to open the way for our children and not wait for others to do it. This process inspired me to not only keep learning but also help inform our youth of their options after high school. I started a youth group with the purpose of helping them explore their career interests and getting ready for life after high school.