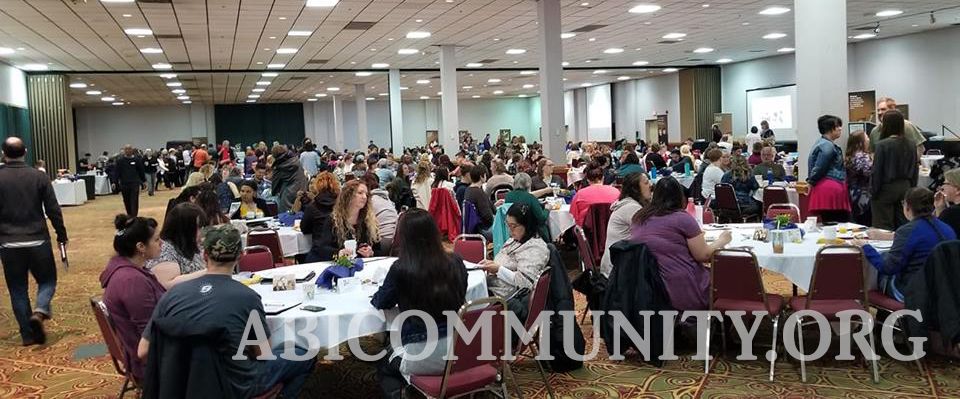 Support Inclusion; Reject Segregation
WE ALL BELONG!
The 14th Annual All Born (in) Cross-Disability Best Practices Educational Inclusion Conference on April 6th was a Success!
The 14th Annual All Born (In) Cross-Disability Best Practices Educational Inclusion Conference was held on Saturday, April 6, 2019. It was preceded on Friday, April 5th, with our Adult Transition Summit: College and Career Success for All. Over the two-day period, 650 people came together to join in the All Born (In) movement in pursuit of an inclusive civil society. Both days featured local and national presenters and brought together parents and caregivers, self-advocates, educators and other professionals, and allies from Oregon, Washington, Idaho, California, and beyond. Saturday featured 35 session offerings including a youth track and sessions in Spanish.  Approximately 50% of the crowd were new attendees. Guadalupe Guerrero, Superintendent of Portland Public Schools, welcomed us in and noted the power of the coming day, working together to inform systems change and doing what is best for our kids by embracing and supporting inclusion in our community. Jennifer Lentfer's abridged version of Here's to the Disruptors was shared passionately by Executive Director, Angela Jarvis-Holland, as a recognition of the enduring strength around us.  LeDerick Horne, disability advocate, and spoken-word poet, set the tone for the day with his keynote by promoting disability pride and the importance of self-advocacy, telling your own story, and finding your strengths within.  He shared seven tips for removing the stigma of disability and empowering youth starting with using disability as a positive identifier.  His insistence on not hiding from one's disability was heard clearly and his spoken word performance of Dare to Dream left us inspired as we moved into our first session. 
Throughout the day, the power of connections and information could be felt in the sessions. From Co-Teaching in the Preschool Classroom to Supporting Children and All Their Diverse Needs in a Fast Moving 3rd-6th grade classroom to Having High Expectations: Students with Intellectual Disability are going to inclusive college; tools were offered to blaze forward on the path to inclusion. Ritu Chopra, Ph.D., Executive Director at Paraprofessional Resource and Research Center, helped clarify roles for success between teachers and paraprofessionals and answered questions.  Sharon Lewis, Disability Policy Expert, shared thoughts about creating a real life (beyond just meeting needs), and Michael Bailey, author, father, and former President of National Disability Rights Network and Disability Rights Oregon gave lesson in disability history and social justice.  We shared why kindergarten inclusion is the forefront of a civil rights movement, gave tools for decoding the IEP (understanding rights, law, testing and evaluation).  We explored inclusive positive behavioral instruction and supports, radical self-care basics, and witnessed senior policy adviser, Stephanie Smith Lee, Heather Lindsey of Oregon Department of Education, and local superintendents discuss inclusive systems change.  Augmentative and alternative communication use was discussed, the LEAP model explored, and UDL discussions coveted.  Strategies for successful employment were offered, the ins and out of the Oregon ABLE Savings Plan laid out, and much, much more. The youth track discussed building community, and how to amplify their voices for power, and opportunity to Think College.  The day was truly jam-packed full of information and hopefully provided plenty of connections for our wonderfully diverse audience.
The lunch hour included networking time, encouragement to use packet note cards for advocacy, and a showing of Breaking Barriers to Inclusion.
Our closing keynote came from the day's Youth Track that included commitments to social and environmental justice, as well as "I am" poems from individual presenters, and ended with a prideful post day community celebration.  Evaluations were submitted and clock hour certificates were dispersed.
Favorite things about the conference from professionals:
"AMAZING! Thank you so much! As a direct support provider, I am taking away so much that is helpful to my work."
"I love how diverse the conference attendees are.  It can be frustrating when workshops don't feel relevant to my role but overall, it is the only time I feel like part of the disability rights community, not just a solo special ed teacher."
"Getting more tools and strategies for UDL (Universal Design for Learning) and inclusion advocacy."
"Networking and sharing our work."
"Seeing presence of people with disabilities. Reminder that all people need and want a community."
"Hearing from people who experience disability and their advocates. Seeing things from a different perspective."
"The drive to keep fighting for what is right."
"Chances to ask questions and crowd source solutions."
"Love that the speakers were part of the community."
"Learning alongside parents and community partners."
Favorite things about the conference from parents:
"Hearing all the perspectives of the people around me as well as the practical information I am able to take back to my home and school."
"The great topics that were talked about made me understand more on how to deal with my child."
"Solidarity and collaboration with a variety of people with disabilities, parents, providers, and educators."
"All the great information.  We are just starting our journey, so this was a huge help."
"My son's talents and needs may look a little different than most, but he deserves no less out of his life than anybody else: relationships, deep friendships, goals, opportunity, connection, and value. I am overflowing with gratitude for the passion, inspiration, and proof that I experienced today, and am ready to continue in my part, of opening hearts and opening minds to the exquisiteness of diversity: not segregated, but together."
Favorite things about the conference from people with disabilities:
"Learning inclusive education, making decisions, trainings, and the information."
"The emphasis on inclusivity and intersectionality."
"Meeting new people."
All Born (In) Thanks You!
We want to say THANK YOU to all our sponsors, presenters, attendees, artists, interpreters, room monitors, registration crew, and other volunteers that made the conference happen. Without YOU this important day of tools, advocacy, networking, and inclusion best practice working to end segregation in our communities and schools would not be possible! Additional thanks to everyone who took a second to complete evaluations for us.  This truly goes to inform our work and improve the conference where possible. Special thanks also to Jeff Day Photography and all attendees that contributed photos from the day.  It's ever so lovely to be able to look back, reflect, and recall moments of the day that impacted us deeply and reminds us WE ALL BELONG.
2019 Sponsors Include: Portland Public School District, West Linn Wilsonville School District, Wayne D. Kuni & Joan E. Kuni Foundation, Oregon Able Savings Plan, Independence NW, Multnomah Early Childhood Program, Columbia Regional Program, Concordia University, Highline College, Achieve, Clackamas Education Service District, Early Learning Multnomah, Multnomah County, Oregon Council of Developmental Disabilities, Oregon Department of Education, Clark County, Washington, and Multnomah Education Service District.