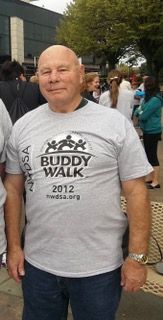 Supporting the Down syndrome community has always been important to Donald and Mary Prescott. Mary's brother Donnie was born in 1948 with Down syndrome. He only lived to 14 months because of the lack of medical interventions or support available at that time.
Mary & Donald have an 11-year-old granddaughter named Eden who experiences Down syndrome and is thriving thanks to advantages that Mary's brother never had.
Mary has worked in Special Education for over 30 years and the Prescott family is dedicated to helping those with disabilities flourish.
Donald Prescott passed away in June, 2018. Mary has asked that memorial donations be made to NWDSA in his name. We wish to extend our deepest appreciation for this gift and our condolences for the family's loss.