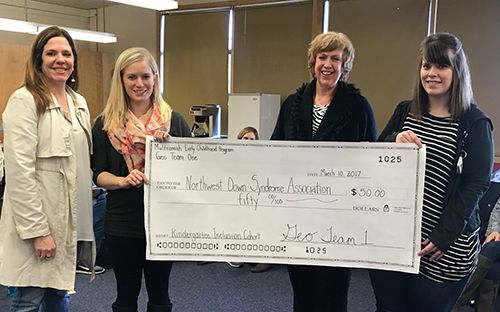 In a deepening of ABI's partnership with Multnomah Early Childhood Program (MECP), ABI Executive Director Angela Jarvis-Holland and Program Director Angela Frome enjoyed the opportunity this past year to spend time with MECP's Geo Teams.
MECP's Early Intervention Staff are assigned to geographic teams (Geo Teams) that support the different areas of Multnomah County. ABI was invited to present to each of the six team, learn more about the services MECP provides, and explore how the two organizations can partner to support families. It was also a chance to share resources available through ABI and NWDSA, and ensure that parents and staff are connecting to all of the opportunities available.
As a result of this work, Geo Team members helped with outreach and support for Open Arms playgroups, workshops, and the annual All Born (in) conference. Geo Team members also learned about the Kindergarten Inclusion Cohort, and made a commitment to help families participate. One of the teams even raised scholarship funds to pay for a Cohort participant (pictured).