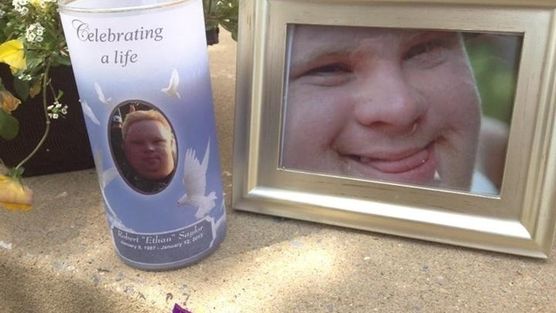 Ethan Saylor was a 26 year old man with Down Syndrome who died in the custody of three off-duty Frederick County Deputy Sheriffs on January 12th, 2013.
This morning the National Down Syndrome Society (NDSS) will join the family of Ethan Saylor, Maryland Delegate Mizeur, change.org, and National Down Syndrome Congress (NDSC) to deliver 338,000 signatures to Maryland Governor O'Malley at the State House in Annapolis, Maryland. NDSS is encouraging all advocates and members of the Down syndrome community to sign the Emma Saylor's change.org petition "Justice For Ethan: Governor Martin O'Malley, We need an independent investigation and training for police."
NDSS is also encouraging all advocates to Tweet and Facebook on Governor O'Malley asking him to open an independent investigation! Thank you for all your support!
Sample Tweets and Facebook posts:
@GovernorOMalley I signed the Saylors' petition and ask you to open independent investigation now! #JusticeforEthan @NDSS
An independent investigation is a good way to prevent further tragedies @GovernorOMalley #JusticeforEthan @NDSS
I signed the Saylor's petition where over 340,000 people are asking you to take action! Now is the time to open an independent investigation and bring justice for Ethan Saylor! #JusticeforEthan @NDSS
I joined the 340,000+ people encouraging you to find justice for Ethan Saylor! #JusticeforEthan @NDSS