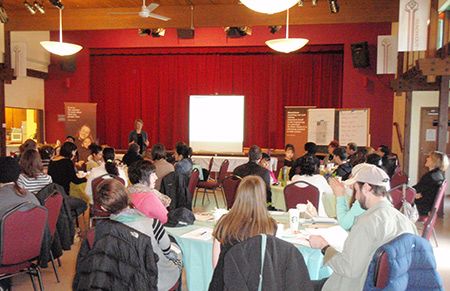 By Janine Paschal
It's been a year since I started helping coordinate the Reciprocal Learning Community (RLC) -- a really satisfying year. We've heard professionals share their knowledge and experience, heard family members tell about their own lives and offer tips and tricks, and shared family stories and successes. Event topics included early childhood literacy, feeding and nutrition, and sensory issues. RLC attendees walked away with an enormous amount of useful information and valuable connections, not to mention some cool door prizes. Attendance nearly doubled from that first session last June to our latest session!
The RLC provides a fabulous opportunity to get to know people and strengthen our community. Even though my own daughter is fast approaching her seventh birthday, I find that in every session I learn new strategies that will help me support her and advocate for her. I also find that there are many things that I wish I had known when she was in the birth to 5 age range, which is our target audience for the RLC.
We are excited about the next RLC session, "Let's Move! Gross Motor Development in the Early Years". Physical therapists Peggy Donovan and Annette Sabater will share information about motor skill acquisition in an interactive session with lots of show and tell. View the event calendar for more information and to register. Let's keep that attendance growing!
Also coming up are some fundraiser events to help us keep the RLC running. From July 29 through August 2, download and print the flyer and take it with you to California Pizza Kitchen in Clackamas. California Pizza Kitchen will donate 20% of your bill to the NWDSA. Share the information with family, friends, neighbors, teachers, anyone you think would be interested! There is no limit to the number of people who can participate, they just need to show their server the flyer. Flyers will also be available at the Resourcefulness Center and at the Summer Social. Watch for more information and dates for events at Burgerville.
We'd love to have your help with future RLC events. Specific needs include help with childcare, event planning, and logistical help on the day of the RLC. Please contact jpaschal@nwdsa.org if you or someone you know is interested in becoming involved.