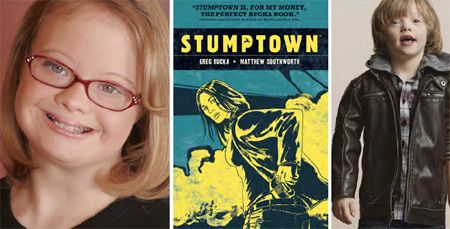 by Paul Carson
Recently people with Down syndrome have been taking on much more visible roles in popular media. As the dad of a three-year-old with Down syndrome, it's inspiring to see this increase in visibility. From TV to advertising circulars to the local comic book scene, the faces of people with Down syndrome are becoming more and more common in the media.
Lauren Potter is the 21-year-old actress who plays Becky on the Fox high school hit Glee. Potter grew up loving Disney princesses and staging plays for her family -- now she speaks to people all over the country. Series creator Ryan Murphy explains, "Glee is about inclusion. It's about a lot of different types of kids who for whatever reason don't fit in."
Luke Zimmerman plays Tom on The Secret Life of an American Teenager, a character who holds a full-time job as an HR manager, charged with firing people because he's the only one strong enough to do what's necessary. With less than 10% of citizens with intellectual disabilities active in the workforce, characters like Tom serve as phenomenal role models.
In Portland comic book sensation Greg Rucka's detective series Stumptown, the lead character lives with her brother Ansel -- who has Down syndrome, holds a steady job and is definitely the more responsible of the two. Rucka and artist Matthew Southworth did several versions of the character, taking care to get his voice right and depict Ansel in a realistic, matter of fact way. When producers interested in developing Stumptown into a TV series suggested changing Ansel into someone who "just stuttered," Rucka realized they didn't respect the character, refusing to consider the change. "He's the moral compass."
Perhaps one of the most visible new role models is a young six-year-old model named Ryan, who's appeared in ads for Target and Nordstrom. Impressively, Target doesn't single Ryan out at all -- he's just another ordinary, happy kid, helping redefine what normal is.
By being visible -- by being seen -- Ryan and these other wonderful performers and characters are helping expand the stage of opportunities for the next generation of young people as they consider their place in the world. If you look for examples of inclusion -- and inspiration -- there are more possibilities every day!