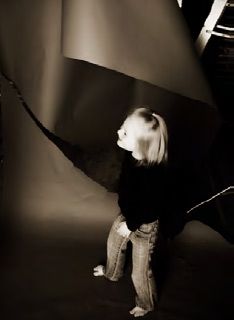 By Jodi Collins
I had a great time earlier this fall working with the NWDSA to take photos celebrating graduates of the first NWDSA Kindergarten Inclusion Cohort. As a professional photographer I am fortunate to make my living doing what I love, and I also enjoy a chance to give back to the community when I can. I have worked with the NWDSA twice in the past, and I was excited when they got in touch wanting to launch another project. It's a lot of work and a bit of a logistical juggle getting so many families in and out of the studio, but shooting the sessions for this project makes my heart and soul feel so alive and full of joy! In one of the sessions, the little girl I was photographing had such a good time in the studio that she ran right through the backdrop, her big brother hot on her heels!
It's appropriate, in a way, that Ellie busted through the backdrop in her photo shoot, because these photos celebrate families who are busting through stereotypes and the norm of segregation of children with disabilities in our schools. As NWDSA Executive Director Angela Jarvis-Holland framed the project for me, "We grow together, we play together, we learn together." When our children grow up together, play alongside one another at recess and learn side-by-side at their desks in school, they are working to create a world where all children, regardless of ability, will have room to thrive.
I remember when a friend in school was pulled out of our classroom and put in a special classroom for a couple of hours every day. He wanted to learn in his own way in the regular classroom and those years of not having that choice were hard for him. As the mom of 3-year-old twins, I dream big for my kids. Part of that dream is that they will never know exclusion or loneliness. My work with the NWDSA has helped open my eyes to sharing that dream with all children, regardless of their learning style or label.