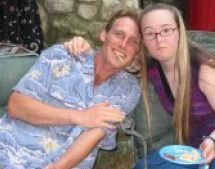 By Amelia Abel
Editor's Note: Below is the text of a speech given by self-advocate Amelia Abel at the Buddy Walk held recently in Eugene, Oregon.
Hello everyone. My name is Amelia Abel. I am 20 years old. The theme for today is, "Imagine the Possibilities.'' Let us imagine together what is possible.
FIRST: Imagine a world where everyone who has a different ability is accepted for who they are, is included in all activities, and is appreciated for their differences. Now people with disabilities are not always included or accepted. We can be isolated and feel lonely.
But today, we see that people can forget their differences. We can be comfortable and happy together. Imagine a world where every day was one great big Buddy Walk.
SECOND: Imagine the possibilities in a world where everyone with disabilities gets the support they need to overcome life's challenges. Children with Down's syndrome do better if they get early intervention services. Students with Down's syndrome need extra help to succeed in schools. We know what to do.
Thanks for coming out today and helping to raise money to support services for kids with Down's syndrome.
I am learning to live on my own. It is not easy. I know the bus routes around Eugene. I can cook chicken enchiladas. I am living in an apartment and working in daycare through the community living program.
Someday I will have my own apartment and I will have a job working with children with disabilities.
Everyone should be given the chance to develop his or her full potential. I hope you all have a dream for yourself. I hope we all reach our dreams. And I hope we all offer a hand to help others reach their dreams.
People with disabilities often feel like they are living on the outside of the world and that everyone else is living on the inside.
Let's imagine a world where everyone is living on the inside.
Now, we can only imagine this world.
People with disabilities try to figure out how to get inside. But it is hard. Regular people do not know that they keep us on the outside: they think the world is fair and open to all people.
We can all help create a world where everyone lives on the inside. Where everyone is included.
Imagine the possibilities.