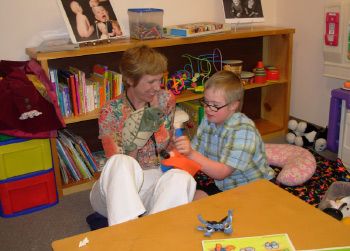 By Angela Jarvis-Holland
Today I sat on the floor going through one of the last few boxes that need unpacking in the NWDSA's new home. As I sorted, sifted and tried to organize a box from the back of the shelf, I found myself amazed at all we have enjoyed and worked on with our many partners, as well as at the beauty, growth and changes in the children that motivate our work.
Among the papers was a disc from a week-long summer inclusion institute I attended seven years ago. Also at that event were Angela Frome from the NWDSA and Nancy Anderson from the Multnomah Education Service District (MESD). We worked in groups during the week and drew a map of how we would like the future to be. We wished for many things and one of them was to be in respectful powerful partnerships across the divide of parent and professional. It was an intense and challenging week.
Now seven years later we are being welcomed by MESD Superintendent Ron Hitchcock, Nancy Anderson, and the supportive staff at MESD into a new and comfortable space to grow our work. We are excited about the opportunity to continue to create an NWDSA family-friendly Resourcefulness Center within the MESD main building near Portland Airport. And we will keep the door open wide to our families and friends from all over the Portland Metro and Southwest Washington areas.
We have a larger space to work in, bigger kids area and a comfortable spot to connect and share resources. We are also able to use some of the other larger meeting spaces in this building and that is a good thing since a lot is being planned for the fall.
An exciting and needed project we are launching is a kindergarten inclusion cohort program that will focus on that critical transition to kindergarten. We have built expertise in trainings that empower parents and will draw on the talents of the staff and many presenters we have worked with both in our RLC trainings and at the All Born In conferences. Our intent is to take a group of parents who have children with significant disabilities and provide them with trainings and tools they need to advocate for a great transition to inclusive kindergarten. When we ask for rights such as inclusion in kindergarten we can also prepare ourselves for some of the responsibilities that go with that request. MESD and others will be helping us reach out and find families who want to commit to several trainings that will give them portfolios, tools, insights and relationships to help them steer their course. Portland State University will continue to be a key partner in this work along with others.
Our other work such as the Buddy Walk, new parent outreach, phone support, drop ins, social events, awareness work, RLCs, youth work, presentations, All Born In Conference, and community-building will all continue. We will be presenting with OHSU at a medical ethics conference in Seattle on the need to have the parent's perspective understood and appreciated in the context of genetic testing. We also have action meetings in process to strategize and protest cuts at the local school district level, and at the state and federal levels. As everyone knows, needs continue to grow making our work more important than ever.
Amongst the many photos in the box I discovered while unpacking, were my two sons at rallies and protests. Daniel first as a toddler and later as a young man telling his own story. It's important to also note the many happy moments we have all shared with NWDSA at our many events. Life moves fast and progress is not always linear.
Coming together, sharing all we can, raising funds for the work and showing our pride at events like the Portland SW Washington Buddy walk, are ways to feel less of a victim. They are also ways to find meaning and joy in our lives and that is something every family is looking for more of.
We would love to have some housewarming help for our move and have a wish list that includes a "nice trendy sofa" for the youth group; Starbucks cards to treat our volunteers and drop-in families; Fred Meyer coupons for some of the new things we need. A toy castle and Playmobile figures have been requested by the youngsters, and a TV/VCR for the youth area. Please let us know if you can help.