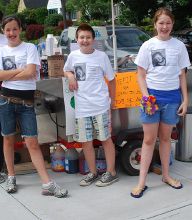 By Quinn Jarvis-Holland
The All Born In youth group is a catalyst for social change and justice, comprised of youth (under 25) with and without disabilities. Promoting progressive ideas in a fun and cool setting is the purpose of our work, all of which is done with a focus on our main asset (youth) while veering away from stagnant techniques, and ideas, and most of all, pity. We are looking for near equal membership (those with and without disabilities). Our true diversity of abilities will be a real strength, lobbying to people who would not typically be exposed to these ideas.
My brother Daniel was born with Down syndrome when I was 5, and it has led me to some great interactions with people with and without disabilities that I wouldn't have had otherwise. I've joined the All Born In movement, and things aren't going to change until we get a lot more people involved. Interested in helping or joining the movement for an inclusive civil society?
Check out this video on youtube to see what we are all about:
We will start meeting up in the fall so email Quinn at quayquay17@gmail.com if you are interested in getting involved.
Thanks from the board,
Quinn Jarvis-Holland
Eleanor Bailey (public speaker and part-time NWDSA staff member)
Emma Frome
Youth Group sponsors book sale
By Emma Frome
One of the first events the Youth Group decided to organize was a book and bake sale to raise money for the children at Sriarunodayam. That is a home in India for children with disabilities who have been abandoned by their families.
Advocates from the Youth Group board interviewed a representative for the home who mentioned a great need for training materials for his staff. The money raised through the sale will go toward the purchase of best-practices resources such as the DownsEd Trust series.
The sale was on a sunny Saturday and dozens of people stopped by to check out the wide selection of books, snow cones from the Harvey family and baked goods. Members of the Youth Group were joined by several kids from Beaumont Middle School who helped out taking money and painting faces.
The sale raised over $600! And thanks to a local family who offered to match the funds raised at the book sale, at total of almost $1300 will be sent to India. The book sale was a lot of fun and it was great to have my friends involved in something important to me.
Representatives from the youth group will also be shopping for toys for each of the 90 children in the home. The package sent to India will also include some artwork from our kids to brighten up their rooms. For more info on the home in India, please visit http://www.sriarunodayam.org.