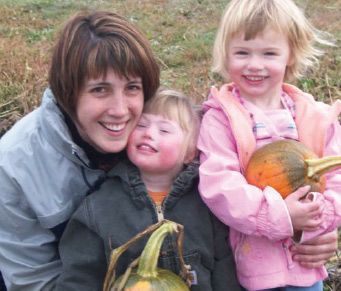 By Emily Braman
"They are so cute, I bet families will be lining up to adopt them," I said of the two gorgeous little girls.
This is the statement that started me on the path of becoming Leah and Eden's mom. I was reviewing the bulletins of children available for adoption in Oregon
with my case worker, who had told me that, as a single person, I was unlikely to be chosen as an adoptive parent for a child under three. With so many married couples looking to adopt young children, my best chances would be with a school-aged child or sibling set.
"No, it is going to be hard to find an adoptive family for those two," stated the adoption worker.
"Why?" I asked. "They are adorable."
"Because the younger one has Down syndrome," she replied. Her response astonished me; with a background of volunteering, working and living with those with disabilities, it seemed unbelievable to me that her diagnosis could so drastically affect the likelihood of her adoption. All I saw was a sweet pair of sisters that needed a home. My adoption worker encouraged me to submit my application to adopt the girls. I did so, but I was afraid to get my hopes up. Two wee ones were my dream, could it come true?
Four days later I learned I was one of three families being considered to adopt the two sisters. Three months later I got the call that blew my mind: I had been chosen and was going to be the mom of these two sweet girls. Overjoyed, excited, ecstatic cannot begin to explain how I felt.
One week later I met Leah and Eden. At first Leah, almost two, seemed to be avoiding me, but she ended the visit in my lap reading a book. Her foster mom said that she did not warm up to strangers easily and to consider myself blessed; I already did. Leah's little sister Eden was all smiles and rolling all over the place. She was turning one the next week and had just begun to prop herself up on her elbows.
I was in love. We got to know each other and bonded during our regular transitional visits over the next few months, and they moved home on July 18, 2008. I knew there would be difficulties along the way; having an infant with special needs and a toddler enter my home all at once was bound to create the need for adjustment. But I was in heaven.
Fast forward to today. The adoption has been finalized and we are officially a family. Both girls are loved by grandparents, aunts and uncles, cousins and friends. Leah is an awesome big sister and loves helping Eden. Eden is blossoming faster than her momma can keep up with, learning to walk, talk and keep up with her big sister. We have been through an emergency hospitalization, heart surgery, a multitude of doctor visits, and a few sleepless nights.
She has been welcomed by friends and family and has opened people's eyes to
what someone with Down syndrome can accomplish. I have been blessed with an
overabundance of kisses, giggles, hugs, the awe of hearing Eden say "Maaaa,"
watching her feisty personality blossom, seeing a sister bond like none other,
and the tears of her first steps. I am so blessed to be her mother.