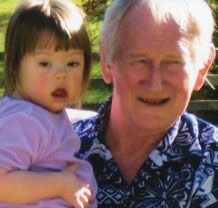 By Ray Robbins
At 6 AM every Tuesday I get up knowing the day will be filled with sunshine. This I'm sure of, no matter what the local weatherman has predicted. Tuesdays are the days that Grandma and Grampa get to baby-sit our granddaughter Alivia.
I pick her up at my daughter, Nicole Reid's, place of work, and on our drive home Alivia and I discuss world events and our plans for the day. When folks ask why she doesn't yet speak at 3, I assure them she does. Only this morning she clearly stated, "Zub blis du plunk se poo zorb." Her signing skills are even more impressive. With her exceptional array of arm and hand signals, I'm sure she could easily bring planes in to land on aircraft carriers, or at the very least referee at NFL football games.
While marveling at the wonders of her digestive system when changing her diapers, she and I sometimes discuss the progress of her potty training, but perhaps we'll save those details for some future class in advanced contortion
techniques.
Most of the day we spend reading, drawing, and playing, with her teaching us the deeper meanings of life. Whenever she gives me one of those unexpected hugs around the knees or one of those heart-melting hugs around the neck, I am convinced that an angel has been placed among us whose mission is to bring joy to every life she touches.
At naptime, while grandma is playing her night-night music, I always look down at her sleepy face and say, "Grampa loves Alivia." I know I don't need to, but I do, because I know she knows.