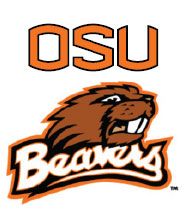 by Jamie Burch
This fall, Oregon State University business student Brain Longfellow contacted the Northwest Down Syndrome Association. He was heading up a group project for his business management class, which required each group to hold a fundraising event for the charity of their choice. One of Brian's group members has a sibling with Down syndrome, and suggested they raise funds for the NWDSA.
They decided to organize a basketball tournament for OSU students in November. The class goal was to raise at least $1000. Brian Longfellow said in an email, "Our current plan was simply to raise money to donate by putting on a tournament on campus for students. However, we think it would be a good thing to incorporate some Down syndrome awareness into the event as well." To that end, they displayed NWDSA brochures at the tournament to help answer questions from participants about where their money would go.
In the end the event was a success. He reported that 17 teams signed up, they exceeded the class fundraising goal, and the final championship game was very exciting. Brian also said, "Looking back there were certainly a few things we could have improved on, but we definitely learned from this." We were very excited too. It is great to see people contributing in ways that make sense to them. The creativity of our circle of support never ceases to amaze us. We are grateful to this group of OSU students for taking the initiative to raise money and educate their fellow students. It is inspiring to see the energy that younger people can bring to our community, and to see siblings reaching out to make a difference for their brothers and sisters. The funds raised from this event will go into our mini-grant program. One of the newest projects this program supports is a youth advisory board headed up by Quinn Jarvis-Holland. We look forward to more collaboration like this in the future, and welcome ideas from everyone. .