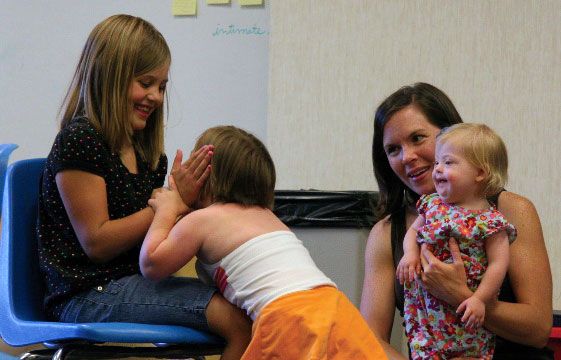 By Jadyn Schofield
Hi! My name is Jadyn. I'm nine years old and in fourth grade. I'd like to share my volunteer experiences with the Northwest Down Syndrome Association. Since May, I've been helping with the Open Arms playgroup in Vancouver. The toddlers that come to the group, like Evan, Adara, Karly, Allie, and Brielle really make me feel happy inside. The playgroup is a fun place to watch these kids play, grow, learn, laugh, and build memories. It has been a great opportunity for me to realize that even though they may look different, they are just regular kids like me. I even got my mom, my dad, and my little brother to go to the playgroup!
I also went to the Buddy Walk on October 4th, and I had a great time! It was neat for me to see how much the community cares for those with Down syndrome. I think that is really amazing! I hope other young people like me get a chance to volunteer the way I have!
Editor's note: If you, or someone you know, would like to volunteer with the NWDSA, please contact us at 503-238-0522.
Jadyn started to volunteer with us because she told her mom she wanted to "help kids with disabilities." Her mom, Geneva Barnes of Vancouver, did
some research and contacted the NWDSA Resourcefulness Center to see how they could get involved. It's as easy as that. And we need you! All of our work depends on volunteers like you. What do you like to do? What are your hidden talents? Being an active participant in our organization has many benefits. Our volunteers find support, friendship, laughter and more. Ask any one of our volunteer Board Members and you will hear stories of all that we have gained being involved with the NWDSA. We welcome volunteers of all ages and interests. Give us a call and we will find a place for you!