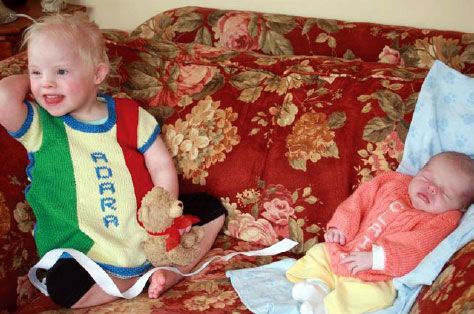 By Martha Morgan
The story of Welcome to the World Sweaters dates back almost 60 years, to when my mother, Patricia Wheeler, knit a baby sweater for the son of one of her closest friends, and decided to stitch his name down the front of it. An idea was born, and six decades later we have lost count of the number of sweaters that have welcomed new babies into this world.
The sweaters started out as gifts, but before long people began to request sweaters for their friends and loved ones. My mother charged a small amount per sweater, and donated the proceeds to the Juvenile Diabetes Research Foundation. I started helping by putting the names on, and later started knitting when my friends began having babies of their own. Together we have knit sweaters for three generations of kids, and they have been sent all over the United States and as far away as the United Kingdom and Australia!
About two years ago I was at a wedding when I ran into a friend, Jane, who I hadn't seen in decades. I mentioned my granddaughter, Adara, and the fact that she has Down syndrome, and we talked a bit about what that has been like for our family. Several weeks later Jane called and said that her brand new grandson had Down syndrome. They had no idea of this at the wedding, so it was a pretty amazing coincidence. I talked more personally with Jane, then, and shared with her all that I had learned since Adara came into our lives. It was wonderful to be able to offer support to an old friend, and of course her adorable grandson HAD to have a sweater.
Each of us has a cause closest to our heart. Mine now became the NWDSA. I have two brothers and a nephew with type 1 diabetes, and have always been glad to support diabetes research (Patricia's sweater donations still go to the JDRF). But now that I have Adara in my life, and have seen first-hand the incredible work of the NWDSA, I send the donations for the sweaters I knit to the NWDSA. Each sweater goes out with a card sharing the NWDSA mission, to let people know where their money is going.
And the name? I recently sent a sweater to the daughter of a friend and her "thank you" note said she was so glad her child had a "welcome to the world sweater." And the name was born. Welcome to the World.