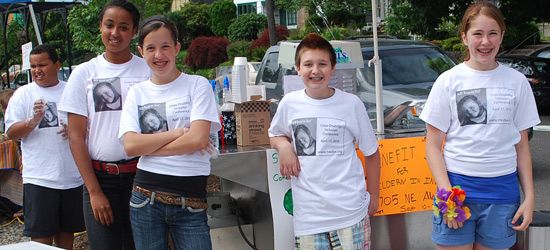 ABI is grateful to a team of incredible volunteers for making our work possible. We could not do what we do without the help of so many of you who step up to join our community and learn together with giving back! In 2016 over 350 volunteers logged more than 4,000 hours of volunteer time helping with our events and programs. Amazing! If you would like to join any of our volunteer committees please fill out the form below and someone will be in touch with you soon to talk about how you can help!
---
Volunteer Opportunities Available
Office Administrative Support
We have a small, dedicated staff that works in our office, and we always need extra help with administrative support. The best way to learn more about our work is to come join us in our every day duties! If you have a few free hours each week, please consider getting in touch and joining us at the Resourcefulness Center!

Data Entry
Tech / IT Support
Misc office support
 

Childcare
Because we offer free childcare at certain trainings and events, many parents and guardians are able to attend who might not have been able to otherwise. This means we have a regular need for volunteers to hold babies and play with the kiddos!
 
Translation
We are proud to be able to offer many of our resources to the Spanish-speaking community. We always need translators to help us make documents, resources, events, printed materials and more available to the parents and families we serve who read and speak Spanish as their first language.
 
Audio/Video Tech
We occasionally use audio and video technology at events and conferences. Having volunteers on-hand who are skilled in A/V is a real blessing when the sound, projectors, laptops, etc. don't quite work right. If you enjoy setting up and troubleshooting A/V, please let us know!
 
Fundraising Committee
Do you have event planning or fundraising skills, a gift for talking to people, or connections with the business community? We could use your help as we expand our fundraising to support our work and mission.
 
Buddy Fest NW Committee
The biggest event of the year for Northwest Down Syndrome Association would not be possible without the help of volunteers. The BFNW Committee meets throughout the year to work on event planning, fundraising and raffle prize procurement. We also need a crew of volunteers the week of the event to bring all the last-minute details together, and on Buddy Fest NW Day to help with running the event. If you love big events, or have ties to the business community and ideas about how to increase our sponsorship pool, this is the committee for you!
 
Social Committee
Our Family Socials are favorite events for many in our community. The Social Committee helps with event planning, liaising with event host sites, publicity and recruitment for the two annual Family Socials and World Down Syndrome Day.
 
Advocacy Committee
Advocacy is at the heart of what we do every day, and the best way to become an empowered advocate and expert on the issues is to step in along side us in this work. Whether it's helping to write press releases and track on the issues, testifying in front of the school board and legislature, or helping do medical outreach around genetic testing, advocacy work is a powerful way to be a part of the solution. If this is a passion for you, get in touch and we will work with you to find the role that best suits your skills and interests.

Genetic testing
Educational advocacy
Political advocacy
 

Reciprocal Learning Community / Education Committee
Help bring research based, best-practices information to parents, or join the Education Committee and help with the All Born (In) conference and other education-based trainings throughout the year. We need event hosts, data entry help and more.
 
Social Justice Youth Program
Youths and adult mentors interested in making the world a better place for all everyone.
---
Our Ethos
NWDSA/ABI are organizations created by dedicated, empowered volunteers. Program Coordinator Angela Frome started volunteering on the first Buddy Walk (now known as Buddy Fest NW) in 1999 in Salem, and Executive Director Angela Jarvis-Holland volunteered in that capacity for seven years before becoming our first paid staff member in 2008. Although we currently have a small part-time team of staff members, all paid hours continue to be complemented by volunteer hours. In order for our mission to create and nurture a loving and inclusive community that celebrates all people, we need to continue to grow our circle of empowered parents and enlightened community members. This work is how we all got our training in the field advocacy and education, and we hope you will step along side us as our work continues to grow. We know that there are many more skilled and creative parents and community members who have much to add to our team. Join us!
---