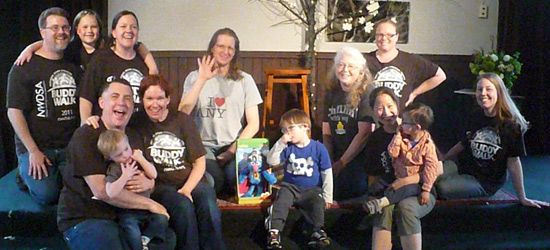 NWDSA is a grass-roots community dedicated to creating and nurturing a loving and inclusive community celebrating every person with a disability including Down syndrome.
There are many ways you can get involved in furthering our mission. You can volunteer for an event, help with a workshop, help organize a fundraiser or make a cash donation to support our work.
The number one way that you can get involved is to look around and see what you can do to build a more inclusive world.
Are you a parent? What can you do to help your child build friendships with children of all abilities, and recognize the value of every person in his or her community?
Are you a teacher? Join us and meet other educators dedicated to building inclusive classrooms.
Are you an employer? Consider reaching out to hire an adult with a developmental disability and help fight the worst unemployment statistics in the country.
As teachers and parents as community members and civic leaders, when we open out minds to the strengths and gifts of people of all abilities we open ourselves to new perspectives and worldviews. When we broaden our techniques to best serve a variety of individuals we become better teachers, parents, leaders and professionals.