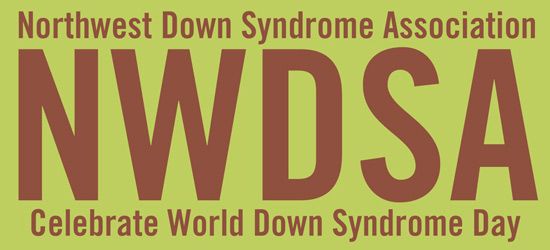 World Down Syndrome Day (WDSD) is observed around the world every year on March 21st (3/21), in recognition of the 3 copies of chromosome 21 that is present in most people living with Down syndrome. WDSD was first observed in 2006 in many countries around the world, and continues to be a day of celebration, pride and awareness building around the globe. You can learn more about the global movement on the World Down Syndrome Day website.
Here in Portland, the NWDSA has been marking the day with a night out for families and friends since 2011. We see it as a day to share a meal together, bringing Down syndrome awareness to the wider community and celebrating the uniqueness of our families. If you would like to be involved in planning this year's event, please contact us and we can talk about how you can help!
---
World Down Syndrome Day Celebration 2014
Down syndrome occurs when a person lucks out and gets 3 copies of the 21st chromosome instead of the standard pair. World Down Syndrome Day is today, 3/21, to acknowledge that fact and bring awareness. Last week, we asked our NWDSA families to show us all the ways that your loved ones with Down syndrome make "more" of your lives, and today we celebrate all that's "more" with you!
Thanks to everyone who submitted a pic, to Kimberly Bayley-Tweed for creating this video, and to Jared Holmgren Photography.
---
World Down Syndrome Day Celebrations 2013
Proud parent Rachel Perry put together this slideshow of family photos and quotes for display at the Northwest Down Syndrome Association's 2013 World Down Syndrome Day celebration at Portland Prime Restaurant, March 21, 2013. The families featured in the slideshow provided these sweet photos to show their pride for their children.
---
Photo Wall of Pride
Families submitted photographs to build a virtual 'wall of pride' for World Down Syndrome Day 2013. Click here to see the photo gallery.
---
Celebration Fundraiser at Portland Prime Restaurant
Families gathered and raised a glass in celebration of the contributions of people with a little something extra on the 21st chromosome.
---
World Down Syndrome Day Celebrations 2012
And what a day it was! The day started with a morning appearance on OPB's Think Out Loud radio program, followed by lunch at Laughing Planet's PSU store hosted by store manager and mom Molly Cermak, and wrapped up with a great family celebration at the Old Spaghetti Factory. Big thank yous are owed to Molly and Franz and the rest of the Laughing Planet crew for putting together a great fundraiser. The store was full of beautiful images of our kiddos and a whole community of folks supporting the NWDSA. Thank you also to Dave Miller and Allison Frost of OPB for taking the time to put a great show together, and to Karen Gaffney and Brian Skotko for joining Angela Jarvis-Holland on air. Thank you as well to everyone who called or commented on the show. It was great to celebrate World Down Syndrome Day with such a great message on the radio. And finally, thanks to Elizabeth, Kristy and Michelle for putting together the event at the Old Spaghetti Factory, to Tony Starlight for entertaining the crowd, and to all the families who came out to represent. It is wonderful to have such a vibrant community to celebrate with!