Getting Ready for Kindergarten/Preparándose para el jardín de niños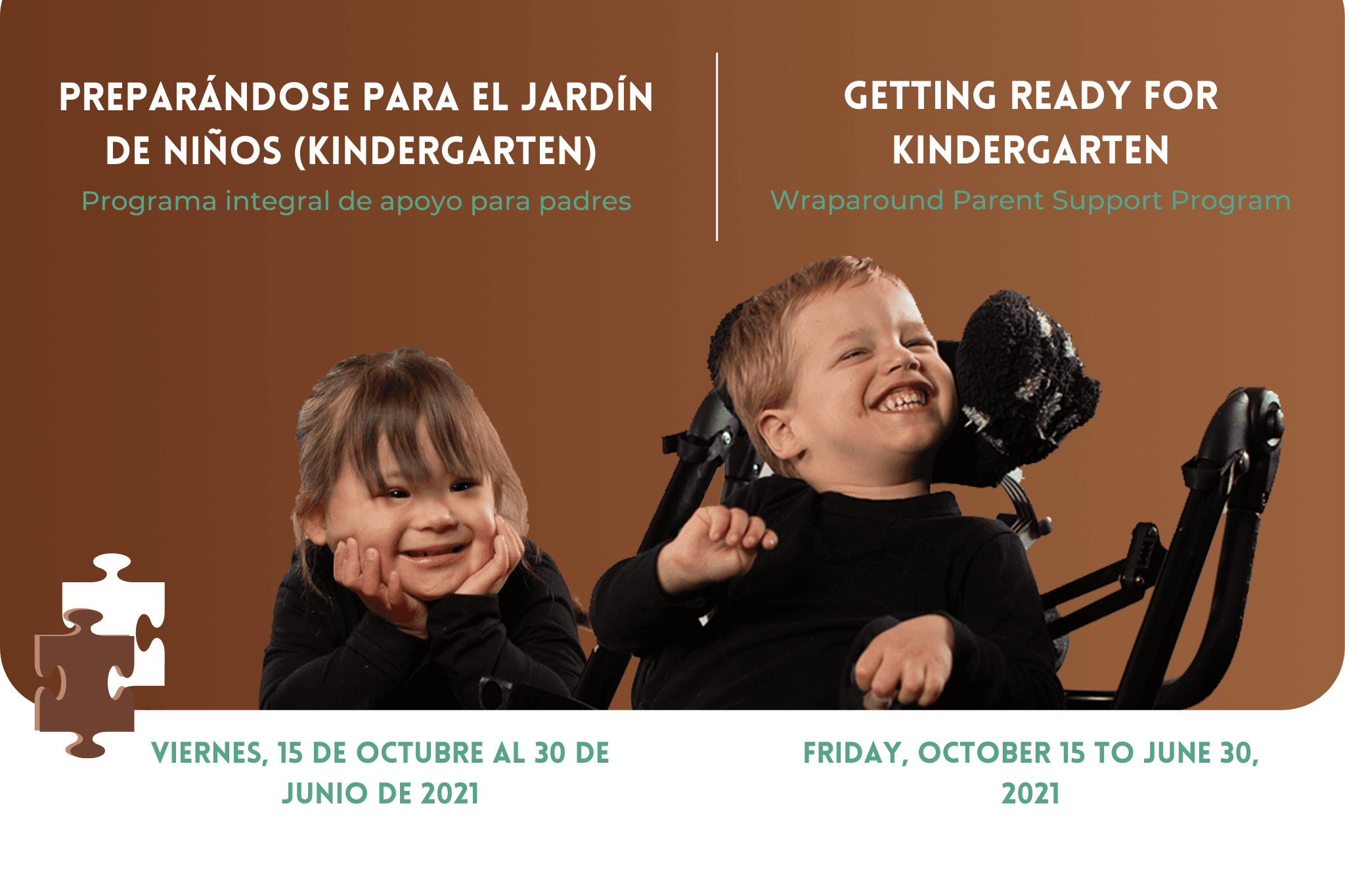 Getting Ready for Kindergarten
Wraparound Parent Support Program
Friday, October 15, 2021 to June 30, 2021
Schedule a time that works for you
Online via Zoom
How exciting that you have a child getting ready for kindergarten in 2022! Our Getting Ready for Kindergarten program offers Multnomah Early Childhood Program (MECP) parents/guardians support, tools, and encouragement for this incredible transition.
NW Disability Support (NWDS) is a grassroots, parent-driven organization with deep experience supporting the dreams and wishes of children and families and empowering them to be true partners in their educational process. The transition for parents of children with disabilities can be a challenging and complicated process, but you don't need to do it alone.
We are delighted to be partnering with MECP to support you through this transition. NW Disability Support and MECP are working together so you can find out more about Getting Ready for Kindergarten, a collaborative effort on preparing for kindergarten transition.
We have been where you are, and we can help you get your child off to a great start in kindergarten.
If you are an MECP family and interested in connecting with us for a conversation, request a copy of our Release of Information from your child's teacher, or print it (linked below), to find out more about what our Getting ready for Kindergarten program and organization has to offer. Then turn in the signed release form to your child's teacher so we can reach out to you to talk about your child and their needs for this exciting transition to kindergarten.
Your child has skills and needs, what you envision for their Kindergarten experience is important, and we want to find out how we can support you. We are parents who have walked in your shoes and have tools, tips, and support to share.
NW Disability Support offers parent to parent connections, best practices resources, training, and online meeting times to create a portfolio reflecting your vision for your child and family. We look forward to connecting with you, answering your questions, and getting to know you and your great kid.
If you have questions please contact Maria Rangel at 503-262-4029 or mrangel@nwdsa.org.
"To have grounding in the actual rights and intent of IDEA will give us the confidence to stand our ground if necessary in the future."
"The experiences and support are priceless, and no information or webinars can replace relationships and support that are ongoing."
---------------------------------------------------------------------------------------------------------------------
Preparándose para el jardín de niños (kindergarten)
Programa integral de apoyo para padres
Viernes, 15 de octubre de 2021 al 30 de junio de 2021
Programe un horario que funcione para usted
En línea a través de Zoom
¡Qué emocionante que tenga un niño/a preparándose para el jardín de niños en 2022! Nuestro programa Getting Ready for Kindergarten ofrece a los padres / tutores del Programa Multnomah Early Childhood (MECP) apoyo, herramientas y aliento para esta increíble transición.
NW Disability Support (NWDS) es una organización de base impulsada por los padres con una gran experiencia en el apoyo a los sueños y deseos de los niños y las familias, y los capacita para ser verdaderos socios en su proceso educativo. La transición para los padres de niños con discapacidades puede ser un proceso desafiante y complicado, pero no es necesario que lo haga solo/a.
Estamos encantados de asociarnos con MECP para ayudarle en esta transición. NW Disability Support y MECP están trabajando juntos para que pueda obtener más información sobre Getting Ready for Kindergarten, un esfuerzo de colaboración para prepararse para la transición al kindergarten. Hemos estado donde usted está y podemos ayudarlo a que su hijo/a tenga un gran comienzo en el jardín de niños.
Si usted es una familia de MECP y está interesado/a en conectarse con nosotros para conversar, solicite una copia de nuestra forma de autorización de información al maestro/a de su hijo/a, o imprímala (enlace a continuación), para obtener más información sobre nuestro programa Preparándose para el jardín de niños y lo que la organización tiene que ofrecer. Luego, entregue el formulario de autorización firmado al maestro/a de su hijo/a para que podamos comunicarnos con usted y hablar sobre su hijo/a y sus necesidades para esta emocionante transición al jardín de niños.
Su hijo/a tiene habilidades y necesidades, lo que imagina para su experiencia en el jardín de niños es importante y queremos saber cómo podemos ayudarle. Somos padres que hemos caminado en sus zapatos y tenemos herramientas, consejos y apoyo para compartir.
NW Disability Support ofrece conexiones de padre a padre, recursos de mejores prácticas, capacitación y horarios de reuniones en línea para crear un portafolio que refleje su visión para su hijo/a y su familia. Esperamos conectarnos con usted, responder sus preguntas y llegar a conocerlo a usted y a su gran hijo/a.
¿Preguntas? Maria Rangel al 503-262-4029 o mrangel@nwdsa.org.
"Tener una base en los derechos reales y la intención de IDEA nos dará la confianza para defendernos si es necesario en el futuro".
"Las experiencias y el soporte no tienen precio, y ninguna información o seminarios web pueden reemplazar las relaciones y el soporte que están en curso".