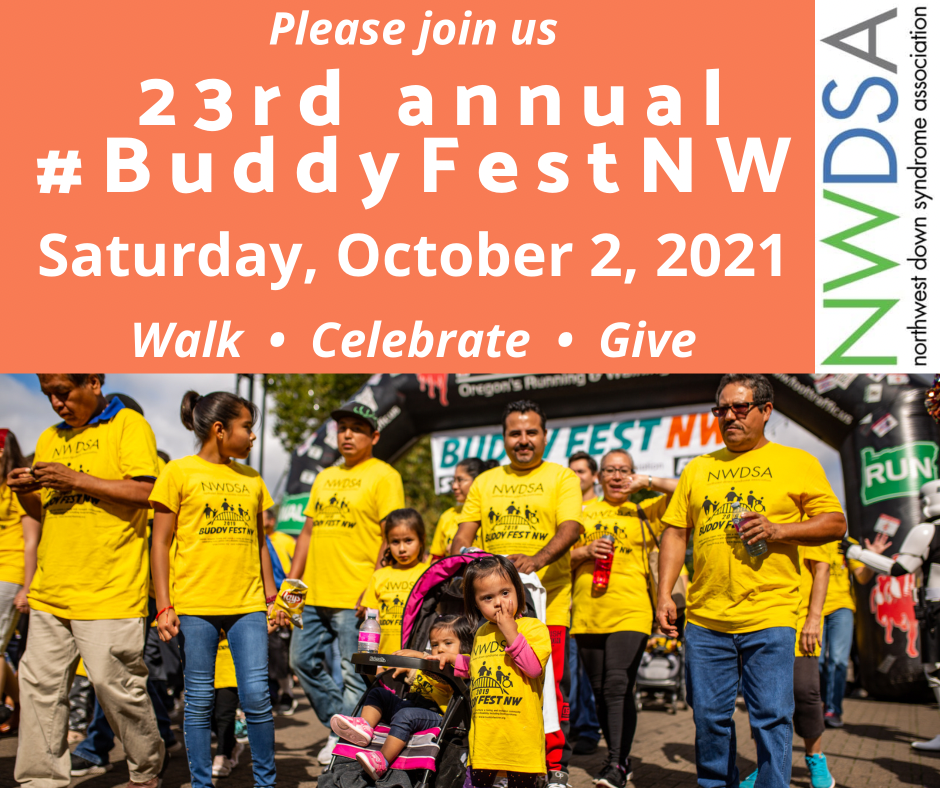 Please join us for our second virtual #BuddyFestNW!
Buddy Fest NW promotes acceptance and inclusion of all people with Down syndrome. The walk brings together family members, friends, professionals, community leaders and individuals with Down syndrome from Portland Metro, SW Washington, and beyond!
NWDSA's mission is to create and nurture a loving and inclusive community celebrating every individual with a disability, including Down syndrome.
This year we bring our annual celebration of acceptance and inclusion to the community in a safe and accessible way on Facebook Live and we need your help to make it a success!
Mark your calendar, dig out your past #BuddyFestNW t-shirts (or make your own) engage your team members, consider how you can support, and do not forget this is the largest fundraiser of the year for the work we do at the Northwest Down Syndrome Association that values relationships, social justice, equity, diversity, and self-determination!
Let's shoot for the stars (like we do for our children), let our friends and family know what their support means to us, and share our pride in our loved ones and lives with Down syndrome!
• Create your #BuddyFestNW team or individual fundraising profile now
• Registration is FREE
• All teams raising $3,500 or more will receive an Apple Watch SE
• All teams raising $1,500-$3,499 will receive Apple Airpods Pro
• Top fundraising individual will receive Buddy Bear
• Each $100 raised by a participant will earn 1 raffle ticket for an iPad Mini