Kindergarten Transition: IEP Rights, laws, tools, and tips to be fully involved (Desplácese hacia abajo para obtener traducción en español)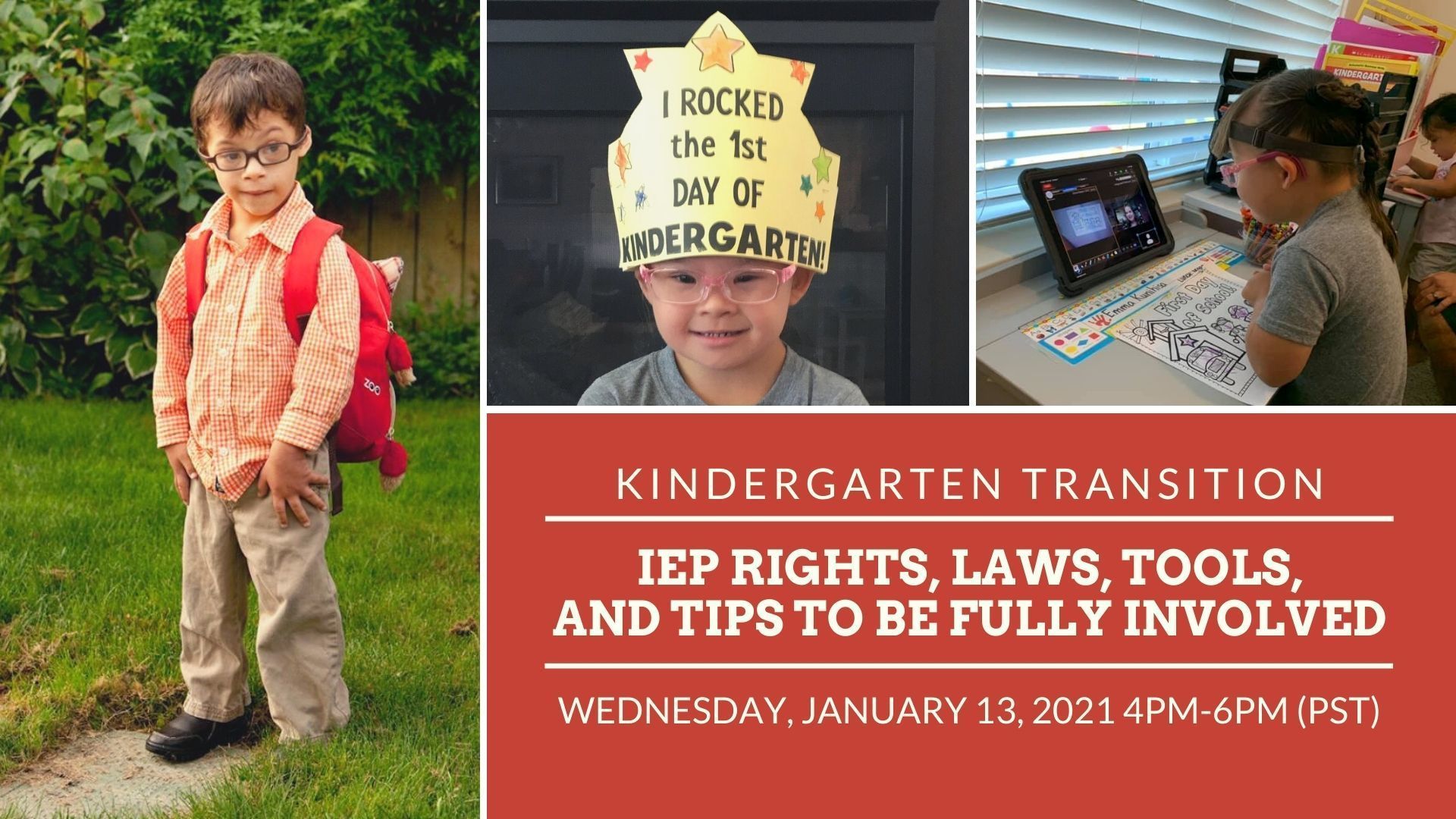 Is your child with a disability going to kindergarten in fall 2021 or 2022? Join us to prepare to get ready for the big day. Is your child in kindergarten now? Come learn about the Individualized Education Program (IEP) plan and how to utilize it. The IEP plan is the written directions for your child's educational progress so it's important to know about rights, laws, tools, and tips to be fully participate in the process.
Moving from early childhood to the school years is exciting and can be confusing but tools and mentors can help navigate the transition. Bring your parental expertise and dreams to join with us and guest speaker Chris Shank to support you along this exciting adventure.
Inclusion Support Team (subject to change):
Chris Shank, Attorney, Youth, Rights & Justice
Jamie Burch, Projects and Community Director, NWDSA/ABI
Maria Rangel, Bilingual Outreach Director
Angela Frome, Senior Programs Director, NWDSA/ABI
Angela Jarvis Holland, Executive Director, NW Disability Support
Mindy Parker, Web & Event Support, Parent & Advocate, NWDSA/ABI
Additional information about this session:
• This session is offered in English with Spanish interpretation available. Please register by 1/6/21 if you need interpretation.
• This training will be recorded. Registering for this event gives your permission to be recorded.
• This session is designed for families of young children with intellectual/developmental disabilities (I/DD), ages three to seven, who receive special education supports and services through an IFSP/IEP, educators involved with IEPs, professionals who support individuals who have IEPs and their families, and community members interested in special education advocacy, rights, and laws.
------------------------------------------------------------------------------------------------------------------------------------
Transición de Kindergarten: derechos del IEP, leyes, herramientas y consejos para participar plenamente
Miércoles, 13 de enero de 2021, 4:00 p.m. o 6:00 p.m.
Reunión de Zoom
En inglés con interpretación en español disponible. Regístrese antes del 1/6/21 si necesita interpretación por favor.
¿Asistirá su hijo/a con discapacidad a kindergarten en el otoño de 2021 o 2022? Únase a nosotros para prepararse para el gran día. ¿Está su hijo/a en kindergarten ahora? Venga y aprenda sobre el plan del Programa de Educación Individualizado (IEP) y cómo utilizarlo. El plan IEP son las instrucciones escritas para el progreso educativo de su hijo/a, por lo que es importante conocer los derechos, las leyes, las herramientas y los consejos para participar plenamente en el proceso.
Pasar de los años de infancia a la escuela es emocionante y puede resultar confuso, pero las herramientas y los mentores pueden ayudar a navegar la transición. Traiga su experiencia como padres y sueños para unirse a nosotros y a la oradora invitada Chris Shank para recibir apoyo en esta emocionante aventura.
Equipo de apoyo de inclusión (sujeto a cambios):
Chris Shank, Abogada, Derechos de Jóvenes y Justicia
Jamie Burch, directora de proyectos y comunidad, NWDSA / ABI
Maria Rangel, directora de alcance bilingüe
Angela Frome, directora senior de programas, NWDSA / ABI
Angela Jarvis Holland, directora ejecutiva, NW Disability Support
Mindy Parker, Soporte web y de eventos, Padre y defensor, NWDSA / ABI
Información adicional sobre esta sesión:
• Este entrenamiento quedará grabado. Registrarse para este evento nos da permiso para ser grabado.
• Diseñado para familias de niños pequeños con discapacidades intelectuales / del desarrollo (I / DD), de tres a siete años, que reciben apoyo y servicios de educación especial a través de un IFSP / IEP, educadores involucrados con el IEP, profesionales que apoyan a las personas que tienen IEP y sus familias. y miembros de la comunidad interesados en la abogacía, los derechos y las leyes de educación especial.