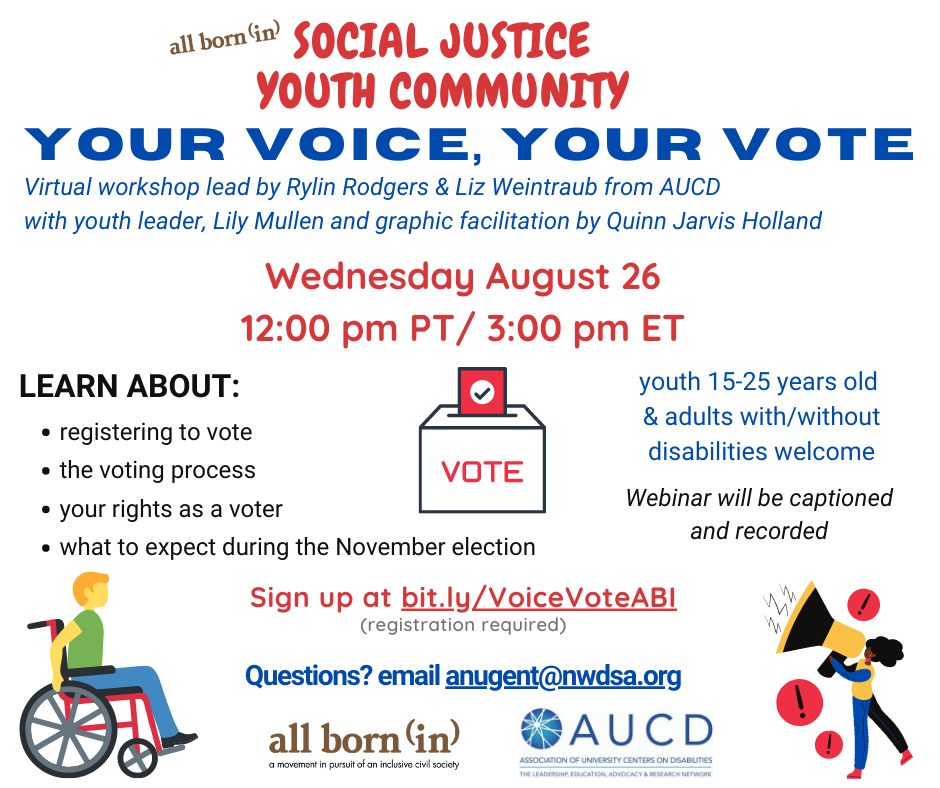 All Born In's Social Justice Youth Community hosts Your Voice, Your Vote. A virtual workshop lead by Rylin Rodgers and Liz Weintraub with youth leader, Lily Mullen and graphic facilitation by Quinn Jarvis Holland.
One of the best ways to have your voice heard is to vote! Are you ready for the November 2020 election?
Join us to learn about:
• registering to vote
• the voting process
• your rights as a voter
• what to expect during the November election (with COVID-19)
This workshop particularly invites youth 15-25 years old with/without disabilities and adults with developmental disabilities to join but everyone is welcome. Even if you are not old enough to vote, we welcome you, too, to get prepared for your future as a voter!
Rylin Rodgers is the Director of Public Policy and Liz Weintraub is Senior Advocacy Specialist at the Association of University Centers on Disabilities. We are so excited for them to share their knowledge with us!
We look forward to sharing this session with you!
This video recording is courtesy of AUCD (Association of University Centers on Disability) and we would like to thank them for presenting and sharing this information with us. Additional resources can be found on their website: https://www.aucd.org/template/event.cfm?event_id=8684&id=379&parent=379 .