Inclusive Distance Learning; How to Use Goals and Accommodations for Inclusion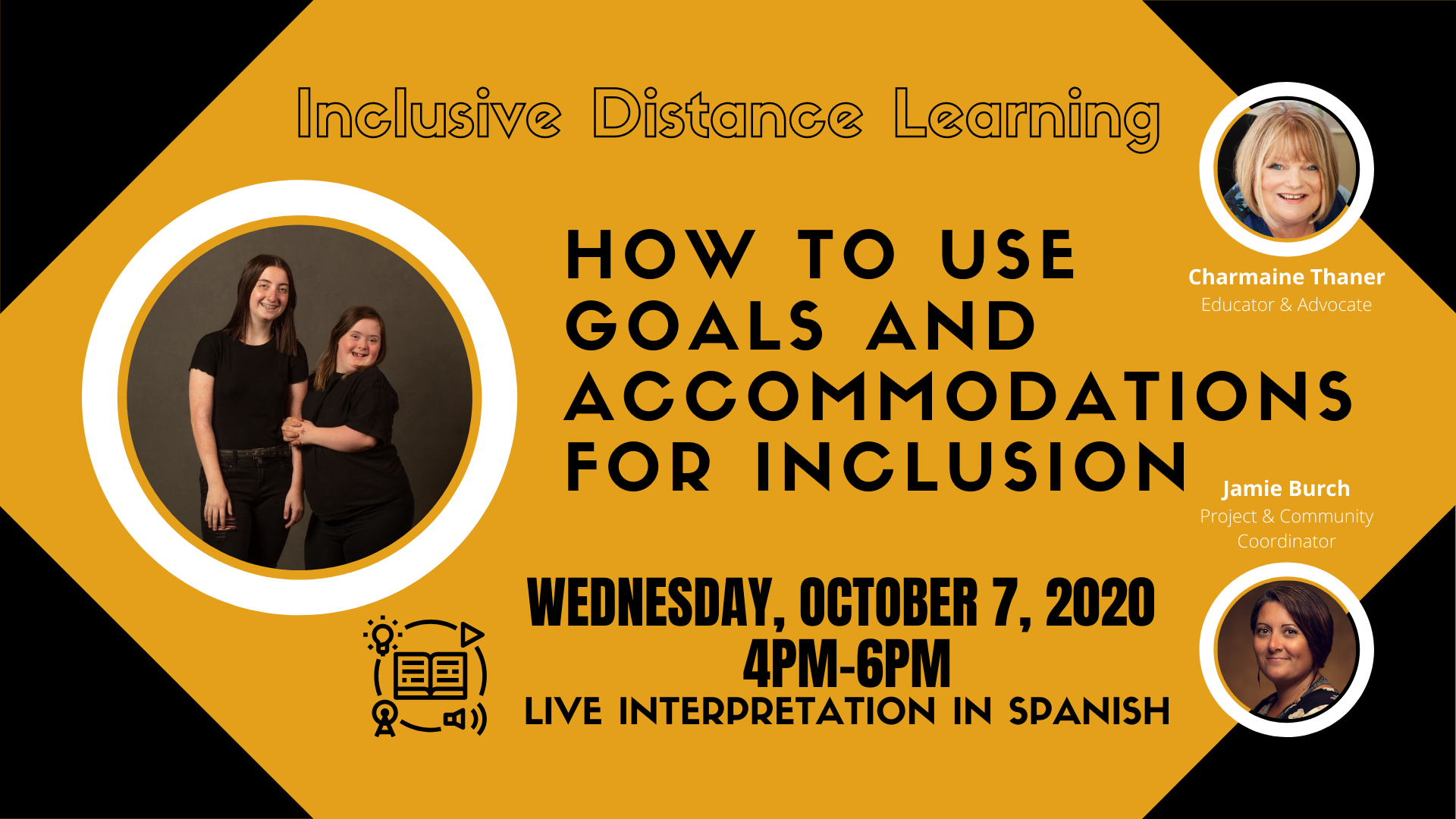 How is distance learning going? Things have changed with the switch to online learning but many things with your child/student(s) and the IEP have stayed the same. When it comes to inclusion and the IEP there are many questions. What barriers need to be reduced in order to increase engagement and participation? How do we scaffold independence to build skills? We want to help answer your questions.
Find out how goals and accommodations can increase inclusion for students with intellectual/developmental disabilities. Learn how to create powerful goals for inclusive distance learning and how to maximize general education access. Find out about tips and tools to write inclusive IEP goals and to use accommodations for inclusion. Come and get prepared with us so that you can share your ideas around inclusive goals and accommodations during distance learning at the next IEP meeting. Possibilities that didn't exist before can be a gift for us now.
This session is presented by Jamie Burch, Project & Community Coordinator, NWDSA/ABI, and Charmaine Thaner, Educator & Advocate, Visions and Voices Together.
Please view Decoding the IEP below before viewing this session.
This session is for parents of children with intellectual/developmental disabilities who receive special education supports and services through an Individualized Education Plan, educators involved with IEPs, professionals who support individuals who have IEPs and their families.
------------------------------------------------------------------------------------------------------------------------------------

Aprendizaje a distancia inclusivo: cómo utilizar las metas y las adaptaciones para la inclusión
¿Cómo va el aprendizaje a distancia? Las cosas han cambiado con el cambio al aprendizaje en línea, pero muchas cosas con su hijo / hija / alumno (s) y el IEP se han mantenido igual. Cuando se trata de la inclusión y el IEP, hay muchas preguntas. ¿Qué barreras deben reducirse para aumentar la participación? ¿Cómo construimos la independencia para desarrollar habilidades? Queremos ayudar a responder sus preguntas.
Descubra cómo las metas y las adaptaciones pueden aumentar la inclusión de estudiantes con discapacidades intelectuales o del desarrollo. Aprenda a crear objetivos poderosos para el aprendizaje a distancia inclusivo y a maximizar el acceso a la educación general. Obtenga información sobre consejos y herramientas para redactar metas de IEP inclusivas y para utilizar las adaptaciones para la inclusión. Venga y prepárese con nosotros para que pueda compartir sus ideas sobre metas y adaptaciones inclusivas durante el aprendizaje a distancia en la próxima reunión del IEP. Las posibilidades que antes no existían pueden ser un regalo para nosotros ahora.
Ver decodificación del IEP abajo antes de asistir a esta sesión.
Para padres/madres de estudiantes con discapacidades intelectuales o del desarrollo que reciben apoyos y servicios de educación especial a través de un Plan de educación individualizado, educadores involucrados con los IEP's, profesionales que apoyan a las personas que tienen IEP y sus familias.