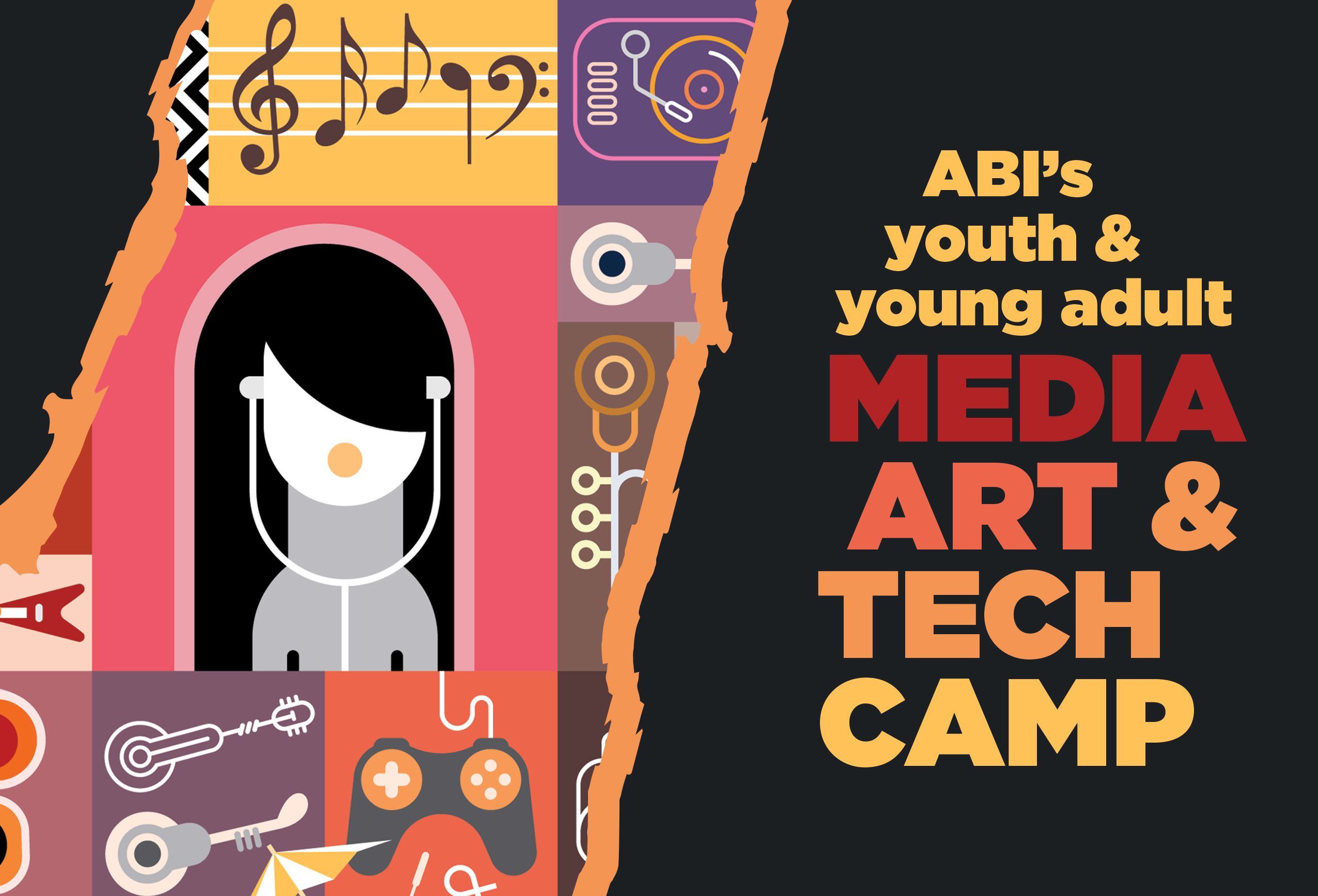 ---
Applications are closed for 2021 camp!
---
What is Media, Art & Tech Camp?
A 2-day, in person, inclusive experience for youths 14 to 16 years old and young adults 17 to 26 years old--with and without disabilities--who are passionate about media, art, and technology, and who are fully COVID-19 vaccinated. Interactive learning sessions throughout the days with local professionals and artists will span topics and creative mediums (visual art, music, social media, etc). It is a peer-led and peer-supported event, with as many Universal Design for Learning and inclusive elements as possible to help everyone have fun, be safe, learn skills, and share your talents and voice.
Presenters and Mentors will help you raise your voice, flex your creativity, and create your own media and art!
Keith Jones, activist and rapper presenting "Dream Beyond Barriers: Be Proud & Share Your Voice" Zoom session
Aniko Adary, graphic facilitator
Joni DeRouchie, live stream producer
Newell Briggs, musician
Shannon Wheeler, comic book artist/writer
Charlie Abrams, videographer/filmmaker
More TBA
When is camp?
Young Adults age 17-26 Camp dates
Friday. July 23, 9:30am - 4:30pm
Saturday, July 24, 10:00am - 2:00pm
Camp Celebration & Presentation: Saturday, July 24, Noon - 2:00pm
Youths age 14-16 Camp dates
Friday. August 13, 9:30am - 4:30pm
Saturday, August 14, 10:00am - 2:00pm
Camp Celebration & Presentation: Saturday, August 14, Noon - 2:00pm
Where is camp held?
Montavilla United Methodist Church
232 SE 80th Ave
Portland, OR 97215
What is the fee?
The cost of camp is $50, due 2 weeks before camp. The fee includes food and art supplies. Limited scholarships are available; contact Kate at kwilliamspaul@gmail.com to discuss.
What do I need to know about the application process?
Space is limited; the sooner you apply, the better
If you need help with the application, please contact Kate at kwilliamspaul@gmail.com
After you apply, you will be contacted for a one-on-one meeting with a camp coordinator
Applying does not guarantee a spot. If camp is full, you will go on a waiting list.
We will let you know if you are selected for camp by July 14 / Aug 4.
What else should I know?
This event is designed to be as interactive and inclusive as possible. You will be expected to actively participate and be engaged in workshops and activities, and support your peers.
Camp coordinator will be able to be reached any time and will have each camper's emergency contact.
We ask that parents not be present during the camp, as we want the youth to explore their own interests and build on their skills. Family and friends are encouraged to attend the Camp Celebration and Presentation!
---
Ready to apply? Set aside a block of time to complete the form. If you need help or support with the application process, please reach out to Kate at kwilliamspaul@gmail.com
---
Notice: Applications are now closed!
---
Youth and Young Adult Summer Camp is a project of ABI, a program of NW Disability Support.