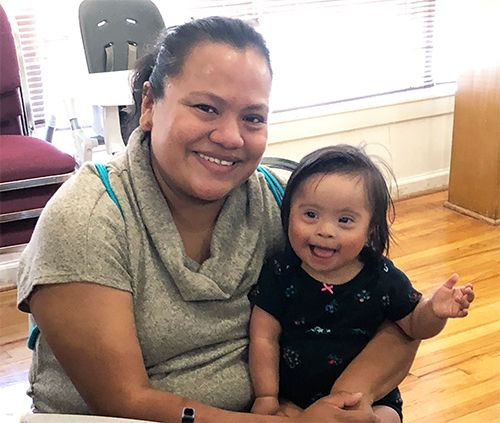 Mi nombre es Yoisyveth Sarao y tengo una hermosa bebé de un año con Sindrome de Down.  Mis expectativas como madre cambiaron con la llegada de ella, trayendo a mi vida nuevas experiencias.  Mis expectativas como mamá al principio fueron desastrosas , por el hecho de saber que fue diagnosticada con síndrome de Down, sin embargo ella ha  traspasado  todas las barreras sorprendiéndonos de gran manera.
Los entrenamientos de RLC han sido de grande ayuda para nosotros como familia. Nos han ayudado a formar parte de una comunidad que nos apoya y nos da ánimos para ayudar a nuestra hija Violeta a cumplir todo lo que ella se proponga.
Mi experiencia en el último taller fue de muchísima ayuda, me enseñó que ser paciente es la mejor clave para obtener los mejores resultados y que siempre existen mas de una forma de ayudar a nuestros pequeños a aprender.

RLC workshops help build community
I have a beautiful one-year-old baby named Violeta with Down syndrome. My expectations as a mother at first were disastrous, yet my expectations changed since she has crossed all barriers to surprise us greatly.
The RLC trainings have been of great help to us as a family. They have helped us to be part of a community that supports us and encourages us to help Violeta to fulfill all that she sets out to do.
The last workshop was very helpful. It taught me that being patient is key to obtaining the best results and there is always more than one way to help our children learn.