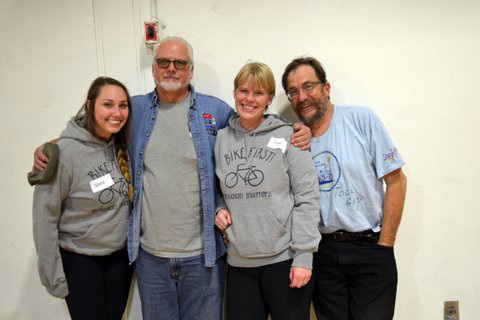 Our People
From middle-schoolers to retireees, volunteers from all over the region spend a magical week helping individuals achieve an important childhood rite of passage—independent bicycling. Without this hard working, quick walking and often fast running corps of enthusiastic community members, this program could not be.
In preparation for Bike Week, several of us work all year.
Ann Donaca-Sullivan

Inspired by her own son's struggle to learn to ride, Ann is one of the two founding organizers of Bike First! She serves as Director of Wellness for the Northwest Down Syndrome Association. In addition to a demanding schedule as the Lead Placement Coordinator and Adjunct Professor of Education at Concordia University, Ann also handles fundraising, community advocacy, customizes the skills balance in each clinic and serves as the Clinic Director during the week of clinic. Ann is the contact person for volunteers and participants. You can reach her at annbikefirst@gmail.com.

Angela Vossenkuhl

A dedicated mother and educator, Angela is the Business Manager for Bike First! As well as being the Director of Undergraduate Studies for the College of Education at Concordia University, Angela manages grants and fundraising, tee shirts and goody bags, as well as handling commemorative photos. You can reach her at angelabikefirst@gmail.com.

Emma Flynn

Emma studied Communicative Sciences and Disorders at the University of Montana. She currently works as a Children's Autism Trainer in Missoula, Montana. She started volunteering at Bike First! in 2007, and doesn't plan on stopping soon! 2018 was her first year as a Floor Director.

Jenna Boyle

Jenna received her undergraduate degree from Concordia University Portland in 2013 with a BA in Exercise and Sport Science. In June 2016 she completed her master's program at Portland State University in Special Education with a focus in Visually Impaired Learners. She is currently teaching for the Yakima School District as a Teacher for the Visually Impaired. Jenna was an intern with Bike First! in 2012 and has served as Floor Director since 2013.

Walt Custer

Walt has been part of the Bike First! family since its birth in 2005. He transports the bikes to Portland, Oregon from Sonoma, California each summer. Walt is our bike mechanic extraordinaire.